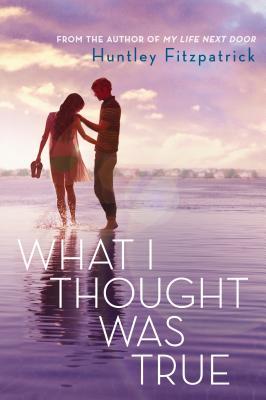 * * * *
From the author of My Life Next Door comes a swoony summertime romance full of expectation and regret, humor and hard questions.
Gwen Castle's Biggest Mistake Ever, Cassidy Somers, is slumming it as a yard boy on her Nantucket-esque island this summer. He's a rich kid from across the bridge in Stony Bay, and she hails from a family of fishermen and housecleaners who keep the island's summer people happy. Gwen worries a life of cleaning houses will be her fate too, but just when it looks like she'll never escape her past—or the island—Gwen's dad gives her some shocking advice. Sparks fly and secret histories unspool as Gwen spends a gorgeous, restless summer struggling to resolve what she thought was true—about the place she lives, the people she loves, and even herself—with what really is.
A magnetic, push-me-pull-me romance with depth, this is for fans of Sarah Dessen, Jenny Han, and Deb Caletti.
Review:
Bel has been encouraging us to read My Life Next Door since last year. I finally got around to it earlier this year and absolutely fell in love. As she knew I would. My new found love lead me to joining the ranks of cool kids waiting anxiously for the release of What I Thought Was True.
Thanks to the Garrett's, My Life Next Door ultimately left me smiling and happy. Sam's dysfunction was no match for the love and kindness emanating from the Garrett's. Gwen Castle's story is a little more rough and serious. Not sad. Just a little less full of "happy." This fact is what lead to the following discussion between Bel and I.
I'm sure you won't be surprised that the three of us talk books all the time. And sometimes these discussions end up being the perfect review. This was one of those times. We're thinking that we will need to include more reviews like this in the future. Heavens know we have plenty of material…
Bel - What I Thought Was True is darker. Not sure where this is going. I don't like her dad. And what the hell happened in March? Dear lord. I just want answers.
Nat - You'll get them. Her dad is a bitter mess. He has no idea how to be affectionate. But he's not all bad. Everyone in this book has their "ugly" qualities. Some more than others. I really liked this one. It's realistic fiction. And DEFINITELY a coming of age story. Like I said though, it's not happy like her other one.
Bel - I finished WITIN. It was good. I agree it wasn't all shiny happy that goes on the happy shelf. But it was fairly realistic I think, you know, the changes approaching the end of the high school years. The Portuguese reminded me of learning Portuguese in primary school I enjoyed that bit.
Nat - I enjoyed having a heroine make some really stupid mistakes but in the end being allowed to move on from them. I also liked the message that things change. Maybe it's not the happiest message to give - "Hey, you and your high school boyfriend aren't going to last forever." But it's realistic and presented in a way that shows teens that you can survive. And even be happy about it.
Bel - Exactly. I liked that she wasn't angelic and had a history. The story felt fragmented in many parts. But she pulled it all together.
Nat - I sometimes felt like the language was fragmented. But I wasn't sure if that was normal for where they live?
Bel - Her mom kind of irritated me. "You want some fish? Some cod?" Wtf???
Nat - On their date-not-date study session?
Bel – Yep. I was embarrassed for Gwen.
Nat - Yeah, it was embarrassing. But it made sense. Both her parents were scared to death that she would be irresponsible like them. But they weren't educated enough to address the issue. Here, take BC pills and let me try to scare off the first boy you bring home. Gah!
Bel - Yep.
Nat - And there you go. Using a small island in CT to show the difference in privilege between the socio-economic classes...
Bel - I did like Gwen reading those erotica romances to the old ladies and the old ladies debating everything about it!
Nat - That is so going to be us.
Bel - Yep! I love how by that age, they just don't care anymore!
And there you have it, folks. I am not ashamed to say that this is how many of our serious conversations end – a humorous note about the dirty old ladies we will be as we live out our Golden Years in Florida.
In the end we both enjoyed What I Thought Was True. It was a realistic coming of age story about how life is continuously changing.
~Nat