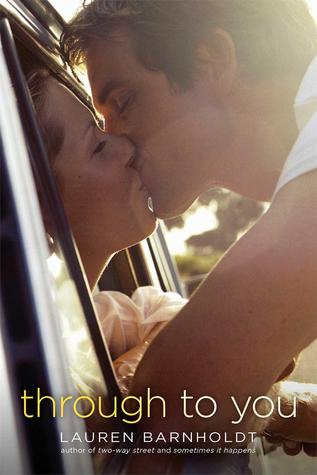 * * * 1/2
Opposites attract—and then complicate—in this romantic, relatable novel from the author of Two-way Street and Sometimes It Happens.
It starts with a scribbled note in class: I like your sparkle. Harper had casually threaded a piece of blue and silver tinsel through her ponytail in honor of school spirit day. And that carefree, corny gesture is what grabs Penn Mattingly's eye. Penn—resident heartbreaker of the senior class. Reliably unreliable. Trouble with a capital "T." And okay, smolderingly sexy.
Harper's surprised by Penn's attention—and so is Penn. The last thing he needs is a girlfriend. Or even a friend-with-benefits. The note is not supposed to lead to anything.
Oh, but it does. They hang out. They have fun. They talk. They make out. And after a while, it seems like they just click. But Penn and Harper have very different ideas about what relationships look like, in no small part because of their very different family backgrounds. Of course they could talk about these differences—if Penn knew how to talk about feelings.
Harper and Penn understand their attraction is illogical, yet something keeps pulling them together. It's like a crazy roller coaster—exhilarating, terrifying, and amazing all at once. And neither knows how to stop the ride…
Review:
I was sold on reading this book when I read, "I like your sparkle." A pick up line like that is right up my alley. But as cute as that line might seem in the blurb, the reality is even more interesting. Because Penn has never once looked at Harper and thought, "Hey, she's cute. I should ask her out." In fact, he's never really looked at her at all. But for some reason, on that particular day, Harper's grudging show of school spirit catches Penn's eye. And before he allows himself to really think about it, he finds himself dropping a note on her desk. Even after giving it to her, he has no intention on furthering their communication. But Penn finds out quickly that he has a bit of weak spot for one Harper Fairbanks.
Harper is not used to guys paying attention to her. Especially not hot scruffy former athletes like Penn Mattingly. She finds herself distrusting the attention while at the same time wondering if it means anything. History class isn't even done and Harper finds herself cutting school and going for a drive with Penn. What follows is a reluctant, intense and often dysfunctional romance.
Thanks to a dysfunctional home life and the loss of the one thing that grounded him (baseball), Penn is a very angry person. He is an angry teenage boy that refuses to communicate with anyone; including his girlfriend. Anytime something sets him off, he shuts down and just walks away. And I mean literally walk away. In more than one scene Penn walks away and leaves Harper where she is standing. He becomes so internally lost in his anger that he completely forgets he's with someone.
Although timid, Harper is a strong character that knows her own worth and is only willing to put up with so much. She tends to overanalyze and insists on talking through everything. A trait that, although annoying, could be quite beneficial to someone like Penn. His continuous refusal to communicate with her or anyone else will likely be the thing that kills their relationship. But the fact that they even have a relationship might also be the one thing that can save Penn.
This is not a gradual love story where the hero and heroine flirt back and forth until it ends in a beautiful happy ever after. This is a love story with a lot of give and take. An on again, off again relationship that will have you turning page after page in hopes of finding that these two people can finally make it all work.
Nat
*Through to You releases on July 8, 2014. Thank you to Edelweiss and Simon Pulse for the opportunity to review this title.