Waiting on Wednesday is a weekly meme, hosted by Jill at
Breaking the Spine
, that highlights future releases that we are excitedly anticipating.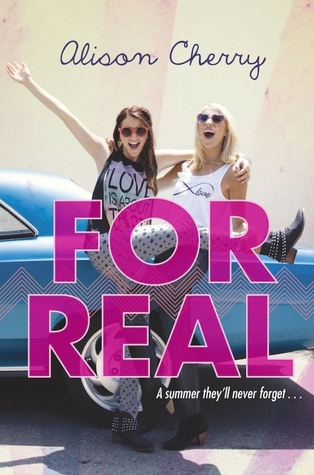 By Alison Cherry
Publication Date: December 8, 2014
No parents. No limits. No clue what they're in for.
Shy, cautious Claire has always been in her confident older sister's shadow. While Miranda's life is jam-packed with exciting people and whirlwind adventures, Claire gets her thrills vicariously by watching people live large on reality TV.
When Miranda discovers her boyfriend, Samir, cheating on her just before her college graduation, it's Claire who comes up with the perfect plan. They'll outshine Miranda's fame-obsessed ex while having an amazing summer by competing on Around the World, a race around the globe for a million bucks. Revenge + sisterly bonding = awesome.
But the show has a twist, and Claire is stunned to find herself in the middle of a reality-show romance that may or may not be just for the cameras. This summer could end up being the highlight of her life... or an epic fail forever captured on film. In a world where drama is currency and manipulation is standard, how can you tell what's for real?
By Jaye Robin Brown
Publication Date: December 9, 2014
Amber Vaughn is a good girl. She sings solos at church, babysits her nephew after school, and spends every Friday night hanging out at her best friend Devon's house. It's only when Amber goes exploring in the woods near her home, singing camp songs with the hikers she meets on the Appalachian Trail, that she feels free—and when the bigger world feels just a little bit more in reach.
When Amber learns about an audition at the North Carolina School of the Arts, she decides that her dream—to sing on bigger stages—could also be her ticket to a new life. Devon's older (and unavailable) brother, Will, helps Amber prepare for her one chance to try out for the hypercompetitive arts school. But the more time Will and Amber spend together, the more complicated their relationship becomes . . . and Amber starts to wonder if she's such a good girl, after all.
Then, in an afternoon, the bottom drops out of her family's world—and Amber is faced with an impossible choice between her promise as an artist and the people she loves. Amber always thought she knew what a good girl would do. But between "right" and "wrong," there's a whole world of possibilities.