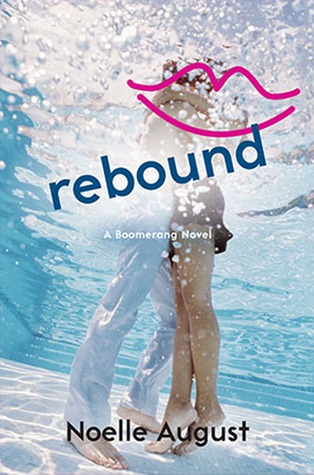 ** 1/2
Hooking up is only the beginning of the fun in this sexy and irresistible second installment of the thrilling New Adult series, Boomerang.
At Boomerang, one night can change everything…
Adam Blackwood has it all. At twenty-two, he's fabulously wealthy, Ryan Gosling-hot and at the top of his game in the business world. His life is perfect, until a scandal from his past resurfaces and threatens to knock the tech wunderkind down and throw his company, Boomerang, a hook-up site for millennials, into chaos.
Alison Quick, the twenty-one-year-old daughter of a business tycoon—and the very ex-girlfriend of Boomerang's former intern, Ethan—has a problem of her own. After nearly flunking out in her senior year of college, she has one chance to redeem herself to her father by proving that she deserves a place in his corporate empire. That means spearheading her father's plan to sink big money into Adam's company and launch it into the stratosphere—provided Adam has no skeletons in his closet.
When the two meet, their sizzling chemistry makes it tough to keep things strictly professional. But when Alison discovers Adam's secret, she knows she should bring it right to her father, who'll leverage it for his own gain and use it to ruin Adam. The only problem: she's falling for Adam—hard.
Will earning her father's approval come at the price of losing her first real love? Or can Adam and Alison leave behind past mistakes and conquer the world—together?
Review:
I was pretty excited that Adam Blackwood was getting his own story. He certainly stood out as Mia and Ethan's boss in Boomerang. And what's not alluring about a young and hot self-made millionaire? And when I read Rebound? He was pretty much everything I thought he would be. Ambitious, dedicated, secretive, and kind. It's that secretive part that provides the angst in this story. A tragedy in his past is what drives him to be successful. It's also the one thing that could tear everything he's built down to the ground.
Alison Quick has been given a chance to prove herself to her dad by working with Adam Blackwood and his company. Her job is to see if it's worth the multi-million dollar investment her father is considering sinking into it. Her father has also surreptitiously asked that she find everything out about Blackwood (using any means necessary) that could be used for leverage in their decision to back his new film company.
Alison and Adam first meet at Halloween party under the anonymity of face masks. They experience an instant connection which both can't wait to explore. Unfortunately, they quickly learn each other's identities and realize that while they are working together it would be unethical to pursue a relationship. The more they work together the more they each become sure of their long term interest in the other. They each feel comfortable enough to share their secrets. Even those secrets that have the distinct possibility of reflecting poorly on their character. Their empathy and compassion towards each other allow for trust and forgiveness of past mistakes.
It sounds lovely and I think this story had a lot of potential. Unfortunately, here is where it lost me. Alison never seems to quite understand how ruthless and unethical her father is. And I just couldn't buy it. His intentions are clear and I found it unbelievable that she didn't understand what her father's plans were with whatever information she uncovered. Also, she showed a clear and unmistakable lack of confidence in both herself as a person and herself as a woman. I can't go into detail without giving away major parts of the story but I will say that this lack of confidence coupled with her father's misogynistic influence made the romantic relationship between her and Adam highly problematic for me.
Boomerang was a wonderfully happy book with amazing down to earth characters and I was truly hoping that Rebound would follow in its footsteps. Unfortunately, for me, that just wasn't the case. To be fair, there are some entertaining parts to this story but the issues I had with it made it difficult for me to enjoy it overall.
Nat