Waiting on Wednesday is a weekly meme, hosted by Jill at
Breaking the Spine
, that highlights future releases that we are excitedly anticipating.
By Sophie Jordan
Publication Date: February 24, 2015
What if the worst thing you ever did was unforgivable?
Davy's world fell apart after she tested positive for Homicidal Tendency Syndrome. She was expelled from her school, dumped by her boyfriend, abandoned by friends, and shipped off to a camp that turns HTS carriers into soldiers. Davy may have escaped, but the damage has already been done. The unthinkable has happened. Now, even worse than having everyone else see her as a monster is the knowledge that they may have been right about her all along. Because Davy has killed.
On the run from government agents, Davy is rescued by Caden, the charismatic leader of an underground group of rebels. Despite Caden's assurances that the Resistance is made up of carriers like her, Davy isn't sure she can trust them. Then again, she doesn't even know if she can trust herself . . . or her growing feelings for Caden. But if she doesn't belong with Caden and his followers, is there anywhere she can call home?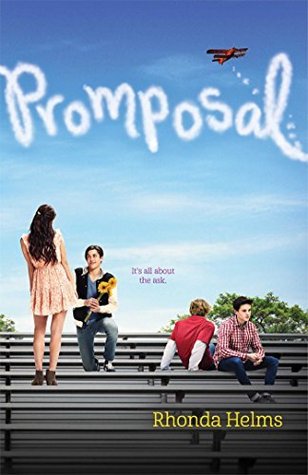 By Rhonda Helms
Publication Date: February 10, 2015
promposal (n.)--an often public proposal, in which one person asks another to the prom, eliciting joy or mortification.

Camilla can't help hoping her secret crush, Benjamin, might randomly surprise her out of the blue with a promposal. However, when she's asked to prom by an irritating casual acquaintance--wearing a fancy tux and standing in front of a news crew--she's forced to say yes. Yet all hope's not lost. A timely school project gives Camilla a chance to get closer to Benjamin...and it seems like the chemistry between them is crackling. But is she reading into something that isn't there?

Joshua, Camilla's bestie, has been secretly in love with his gay best friend, Ethan, since middle school. Just as he decides to bite the bullet and ask Ethan if he'll go to prom with him, even if just as friends, he gets a shocking surprise: Ethan asks Joshua for help crafting the perfect promposal--for another guy. Now Joshua has to suppress his love and try to fake enthusiasm as he watches his dreams fall apart...unless he can make Ethan see that love has been right in front of his eyes the whole time.

The road to the perfect promposal isn't easy to navigate. But one thing's certain--prom season is going to be memorable.