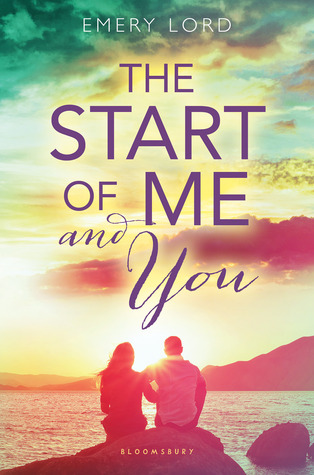 * * * *
Following her pitch-perfect debut
Open Road Summer
, Emery Lord pens another gorgeous story of best friends, new love, & second chances.
Brimming with heartfelt relationships and authentic high-school dynamics The Start of Me and You

proves that it's never too late for second chances.
It's been a year since it happened—when Paige Hancock's first boyfriend died in an accident. After shutting out the world for two years, Paige is finally ready for a second chance at high school . . . and she has a plan. First: Get her old crush, Ryan Chase, to date her—the perfect way to convince everyone she's back to normal. Next: Join a club—simple, it's high school after all. But when Ryan's sweet, nerdy cousin, Max, moves to town and recruits Paige for the Quiz Bowl team (of all things!) her perfect plan is thrown for a serious loop. Will Paige be able to face her fears and finally open herself up to the life she was meant to live?
Review:
I admit it. I haven't read Open Road Summer. I've heard all the good things about it but there are so many books and so little time. You know how it goes. But based on everyone's reaction to Emery Lord's debut I went ahead and requested her second novel from NetGalley. And wow. If you read any of my reviews you know that friends to lovers is one my absolute favorite tropes in romance. I mean, what's better than falling in love with someone that truly knows you? So it's no wonder that I fell hard for this story.
Paige's very first boyfriend died in a terrible drowning accident and ever since, Paige has been hiding from the world. Depression and fear will do that to a person. Particularly a young teen. But her junior year is about to begin and Paige has decided that this is the year she starts living again. She even makes a list.
Parties/social events – because she has avoided anything other than small group outings with her friends.

New Group – She wants to put herself out there by doing an extracurricular activity during the school year.

Date – She hasn't had a boyfriend since Aaron passed away.

Travel – She desperately wants to go to a summer program in New York over the summer.

Swim – She became deathly afraid of water after Aaron's death.
Paige musters all the courage she can and completes the first two things on her list pretty quickly. Party? Check. Join the Quiz Bowl team? Check. Now for the dating. She has her sights set on one Ryan Chase. Her crush from years ago. To her amazement, Ryan and his cousin (Max), naturally become part of her group of friends. What she doesn't expect is how quickly she and Max connect. But Paige is a teenager and is so completely focused on super cute Ryan (who she has nothing in common with) that she is completely oblivious to the romantic possibility in Max.
It may take Paige forever to realize the possibilities in Max but it will take the reader only a hot second. Max is totally the guy I would have crushed on in high school. He is kind of perfect and perfectly kind. I'm going to make a list a la Paige naming all the reasons I love Max:
Adorable nerd with glasses. I'm always a sucker for this look/personality

Firefly fan.

Total Beta hero. My absolute favorite.

Firefly fan.

Read Pride and Prejudice.

Did I mention he was a Firefly fan?
But I digress. Enough about my list and back to Paige's.
Completing the things on her list doesn't happen quickly. There are a few other things going in Paige's life that require her attention. One of her friends is struggling with an older boyfriend, she isn't connecting with her younger sister, her divorced parents are dating again and her grandmother's Alzheimer's is progressing. But even with all the chaos, all three adults in her life (parents and grandmother) and her all of her friends (old and new) continue to be an amazing support system for Paige regardless of the complications in everyone's lives.
As the school year progresses, Paige, along with the help of her friends (Max in particular), slowly learns to address her fears and ultimately the three final things on her list.
The few contemporary YA books I've read this year have been simply fantastic. But this might be might favorite so far. I love a friends to lovers romance and this certainly fits the bill.
Nat