Waiting on Wednesday is a weekly meme, hosted by Jill at
Breaking the Spine
, that highlights future releases that we are excitedly anticipating.
By Jill Shalvis
Publication Date: June 30, 2015
RESCUE ME
Cedar Ridge, Colorado, is famous for crisp mountain air, clear blue skies, and pine-scented breezes. And it's the last place Lily Danville wants to be. But she needs a job, and there's an opening at the hottest resort in her hometown. What has her concerned is the other hot property in Cedar Ridge: Aidan Kincaid-firefighter, rescue worker, and heartbreaker. She never could resist that devastating smile . . .
The Kincaid brothers are as rough and rugged as the Rocky Mountains they call home. Aidan has always done things his own way, by his own rules. And never has he regretted anything more than letting Lily walk out of his life ten years ago. If anyone has ever been in need of rescuing, she has. What she needs more than anything are long hikes, slow dances, and sizzling kisses. But that can only happen if he can get her to give Cedar Ridge-and this bad boy-a second chance . . .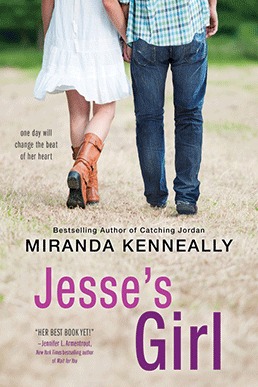 By Miranda Kenneally
Publication Date: July 7, 2015
Practice Makes Perfect.
Everyone at Hundred Oaks High knows that career mentoring day is a joke. So when Maya Henry said she wanted to be a rock star, she never imagined she'd get to shadow *the* Jesse Scott, Nashville's teen idol.
But spending the day with Jesse is far from a dream come true. He's as gorgeous as his music, but seeing all that he's accomplished is just a reminder of everything Maya's lost: her trust, her boyfriend, their band, and any chance to play the music she craves. Not to mention that Jesse's pushy and opinionated. He made it on his own, and he thinks Maya's playing back up to other people's dreams. Does she have what it takes to follow her heart—and go solo?
By Brighton Walsh
Publication Date: July 21, 2015
In this sexy, suspenseful New Adult novel, a young woman hiding from her criminal past is taken captive by her ex-boyfriend, the ultimate bad boy.
Evie is about to embark on the perfect life. Beautiful, poised, and engaged to a rising business star, she fits the part of trophy wife perfectly, except for one thing: her entire identity is a lie.
Five years ago she created a new identity for herself, but it all crashes back when something she witnessed years ago comes back to haunt her. Now she's in danger of losing more than her social status.
Determined to protect the careful life she's built for herself, Evie doesn't want anything to do with Riley, the criminal for hire who broke her heart years ago. But Riley has other ideas. He's never forgotten Evie, and to protect her, he steals her away. Hidden from the world, sparks begin to fly as old memories resurface and their passion reignites.