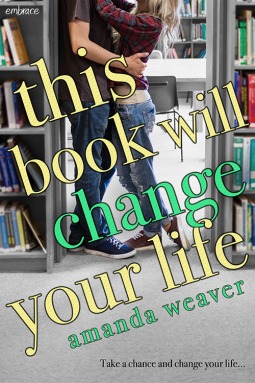 * * * 1/2
Take a chance and change your life…


College was supposed to be where Hannah's hard work paid off, but the major in honors chemistry she's been working towards since childhood is slipping away. Worse, she's not sure she wants it anymore. Salvation comes from an unlikely place—a used bookstore and Ben, the passionate college senior who works there.
Ben's trapped in a life mapped out for him. Trapped in a future career as a lawyer to make his father happy. Trapped pursuing a girl he doesn't even like because she fits into a world he doesn't want, but can't escape. But then he meets Hannah. And for the first time, he knows what it means to truly want something.
So he gives in to being her friend. Then to wanting her. Then to kissing her. And within the freedom of his impulsivity, both of their carefully planned lives begin to fall apart...
Review:
After receiving a failing grade on her first honors chemistry test and then being caught in a downpour on her way back to her dorm room, Hannah takes unexpected refuge at Prometheus Books. A small independent used bookstore in town. For a girl that has spent the past 8 years living and breathing science so she can become a chemist, the act of reading for pleasure is foreign. So when the cute bookstore employee finds out Hannah has never read for pleasure, he takes it upon himself to find the perfect first book. Hannah leaves the store with a copy of The Book Thief and a crush that just won't quit.
While working on his undergraduate degree, Ben has been able to hide on campus and pretend that his dreams of the future don't coincide with is father's demands. But the end of his senior year is looming and pretty soon he will be leaving his dreams behind to pursue the law degree his father insists is the future for him. When he meets Hannah, he finds someone who sees him and believes that he has every right to pursue his dreams of studying literature and becoming a professor. The only problem is Ben doesn't share Hannah's confidence that pursuing what he loves most is the right choice.
As the school year progresses they encourage each other to pursue the paths they love while attempting to garner the approval of their parents. A hurdle that is considerably easier for Hannah than it is for Ben.
This was a super cute and satisfying romance. I'm a huge sucker for a bookstore romance. Seriously, used bookstores beg for romances to happen and I love it when an author agrees. That first scene with Ben had me falling in love with him. He's so passionate about reading and wants everyone else to love it as much as he does. But in the end, Hannah is the one that stole my heart. Here is a young woman that is confronting so many changes in her life yet never once does she forget her self-worth. Not only does she not forget it, she demands it. Throughout the story, she watches Ben struggle to make a commitment and fight for what he wants and loves and she has no illusions that if he won't fight for that then he won't fight for her.
I won't tell you how that turns out, you'll just have to read and see. I will tell you that you won't be disappointed in Hannah as a heroine or in Hannah and Ben's love story. In fact, I can guarantee that it will leave you contentedly smiling throughout the day.
Nat