Waiting on Wednesday is a weekly meme, hosted by Jill at
Breaking the Spine
, that highlights future releases that we are excitedly anticipating
By Fredrik Backman
Publication Date: May 3, 2016
From the bestselling author of the "charming debut" (People) A Man Called Ove and My Grandmother Asked Me to Tell You She's Sorry, a heartwarming and hilarious story of a reluctant outsider who transforms a tiny village and a woman who finds love and second chances in the unlikeliest of places.

Britt-Marie can't stand mess. She eats dinner at precisely the right time and starts her day at six in the morning because only lunatics wake up later than that. And she is not passive-aggressive. Not in the least. It's just that sometimes people interpret her helpful suggestions as criticisms, which is certainly not her intention.

But at sixty-three, Britt-Marie has had enough. She finally walks out on her loveless forty-year marriage and finds a job in the only place she can: Borg, a small, derelict town devastated by the financial crisis. For the fastidious Britt-Marie, this new world of noisy children, muddy floors, and a roommate who is a rat (literally), is a hard adjustment.

As for the citizens of Borg, with everything that they know crumbling around them, the only thing that they have left to hold onto is something Britt-Marie absolutely loathes: their love of soccer. When the village's youth team becomes desperate for a coach, they set their sights on her. She's the least likely candidate, but their need is obvious and there is no one else to do it.

Thus begins a beautiful and unlikely partnership. In her new role as reluctant mentor to these lost young boys and girls, Britt-Marie soon finds herself becoming increasingly vital to the community. And even more surprisingly, she is the object of romantic desire for a friendly and handsome local policeman named Sven. In this world of oddballs and misfits, can Britt-Marie finally find a place where she belongs?

Zany and full-of-heart, Britt-Marie Was Here is a novel about love and second chances, and about the unexpected friendships we make that teach us who we really are and the things we are capable of doing.
By Ginger Scott
Publication Date: March 29, 2016
Casey Coffield has a growing list of personal flaws he keeps locked away in his head:
He's never on time.
His list of IOUs to his best friend is endless.
Money is always short.
Goals are never in reach.
Oh, and he's decided to add college drop-out to that list, too. He doesn't really think that last one's such a bad thing, but his family insists it is, so it stays on the list.
On paper, he's a zero. But in person, when he's mixing tracks for a sea of bodies at the hottest clubs and parties, he's downright irresistible. Just-right stubble on his chin, body of a boxer and a smirk that stimulates all the right nerves—women have never been a problem. They flock to his swagger and fall for his charm…fast.
All except for this one.
Purple hair, gray eyes, a raspy voice and sass, Murphy Sullivan is a little bit country and a little bit rock-n-roll. And her and Casey? They have history. He can't remember it, but she wrote a song about him—and it's not exactly a love song. But it is good. Damn good. And uncovering her inspiration just might be the key to solving a few of his shortcomings—not to mention open doors to his own big break in the music industry.
But sometimes dreams get messy when they collide. Sometimes life changes patterns. A past paints the wrong picture and futures get cloudy. The only question that remains is who will you choose when the dust settles—you? Or the girl of your dreams?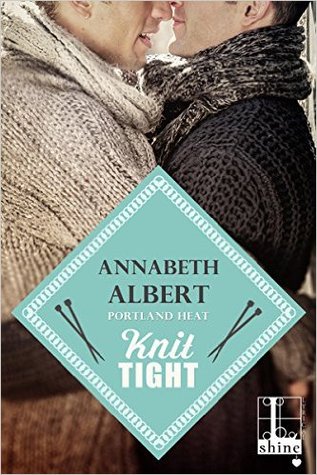 By Annabeth Albert
Publication Date: April 12, 2016
It's no secret that Portland, Oregon, has some of best restaurants, shops, and cafés in the country. But it's the hard-working men who serve it all up that keep us coming back for more...
One of Portland's hottest young baristas, Brady is famous for his java-topping flair, turning a regular cup of joe into a work of art. Every Wednesday—aka "Knit Night"—hordes of women and their needles descend on the coffeehouse, and Brady's feeling the heat. Into the fray walks a tall, dark, and distractingly handsome stranger from New York. His name is Evren, and he's the sexy nephew of Brady's sweetest customer, the owner of the yarn shop down the street. He's also got a killer smile, confident air, and masculine charm that's tying Brady's stomach in knots. The smitten barista can't wait to see him at the next week's gathering. But when he tries to ask Evren out, his plans unravel faster than an unfinished edge. If Brady hopes to warm up more than Evren's coffee, he'll have to find a way to untangle their feelings, get out of the friend zone, and form a close-knit bond that's bound to last a lifetime…