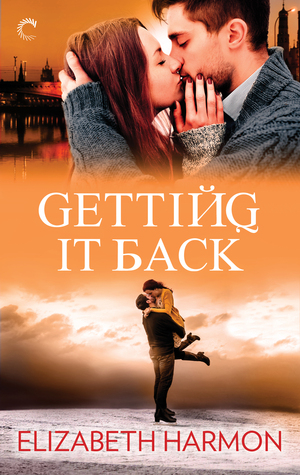 * * * 1/2
In this second-chance romance, a former top men's figure skating champion is willing to risk everything for a comeback--except a new start with his long lost love.
An unexpected phone call from the man who broke her heart offers Amy Shepherd an opportunity to return to the work she loves, training elite figure skaters. Except it's just one figure skater: Him. Can she finally forgive and forget?
Figure skater Mikhail "Misha" Zaikov once had it all: medals, money and the adoration of millions. But a devastating injury put an end to his career and his romance, leaving him with nothing but regret over what could have been. His last chance to re-join the world's top skaters is now. And there's only one person who can help him: Her.
On Russia's unyielding ice, Misha must reclaim what he's lost while facing off against a talented young rival and risking further injury. But Amy soon discovers Misha's much bigger challenges lurk off the ice. And she's determined to keep Misha whole and healthy, even if doing so ends his shot at the gold.
I love to watch figure skating. And when I was a kid/teen I was obsessed to the point that I checked out every possible non-fiction book at the library so I would understand EXACTLY what was happening on the ice. As an adult, I still enjoy it but since we don't regular TV (Netflix/Hulu family here) I rarely see a competition. But the love is still there. So when I saw that there was a romance featuring figure skaters I was all in!
When Amy Shepherd receives a call for help from her old boyfriend, Misha, she immediately runs to his side. Not going to lie. This bothered me at first. We learn immediately that Misha left her without explanation. So the fact that she would jump to his aid so dramatically made me uncomfortable. But as I slowly learned more about Amy and Misha the more I was convinced of the strength of their connection as well as their individual reactions to that connection.
Although the attraction is still there they are both adamant about not having a romantic relationship. However, they do agree to be friends. Instead of separating after helping him, Amy invites Misha to live with her in Ohio while he figures out what he will do next. He is still mourning the loss of his competitive skating career and is at a loss as to what he should do next.
Misha would love nothing more than to compete again and Amy is an athletic trainer that wants nothing more than to focus on training figure skaters. They are a professional match made in heaven. When Misha's gets in touch with his old coach and makes plans to start training again he begs Amy to take a job as his personal athletic trainer. She understands his back injury more than anyone else and he trusts her to keep him safe and healthy during the rigorous training required for Olympic level competition. Of course, she takes the job.
There were a number of things that I loved about Getting It Back. This particular romance had very different all around feel to me. It was almost like reading an epic romance without the super long timeline (i.e. Thorn Birds). I also enjoyed how both characters grew throughout the story. Misha in particular. He has huge hurdles to jump and decisions to make that take both a physical and emotional toll. By the end of the story, I loved both of these characters and cared about them.
I had only two small complaints and they were most definitely about my own personal preferences than anything else. The love scenes were a little too flowery. Although I did love how they both enhanced the story telling while not taking away from the main theme of the story. I also felt like there was a lot of repetition in regards to the elusive triple jumps that Misha was insistent on nailing on the ice and that Amy was insisting he NOT do. The author does such a great job in portraying Misha's physical struggles in other ways that the constant on page mention of the triple jumps became cumbersome at times. But honestly, those are two small things in what was a really lovely atypical sport romance.
If you are a fan of sports romance…
If you are a fan of figure skating….
If you are looking for something outside the usual box of football and hockey romance…
I definitely recommend you read Getting It Back by Elizabeth Harmon.