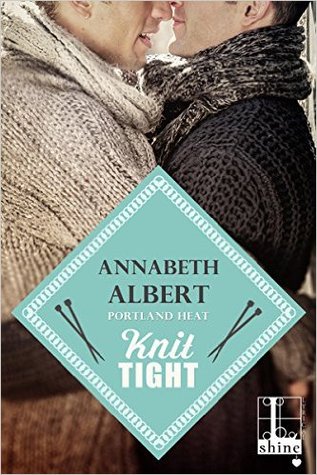 It's no secret that Portland, Oregon, has some of best restaurants, shops, and cafés in the country. But it's the hard-working men who serve it all up that keep us coming back for more...
One of Portland's hottest young baristas, Brady is famous for his java-topping flair, turning a regular cup of joe into a work of art. Every Wednesday—aka "Knit Night"—hordes of women and their needles descend on the coffeehouse, and Brady's feeling the heat. Into the fray walks a tall, dark, and distractingly handsome stranger from New York. His name is Evren, and he's the sexy nephew of Brady's sweetest customer, the owner of the yarn shop down the street. He's also got a killer smile, confident air, and masculine charm that's tying Brady's stomach in knots. The smitten barista can't wait to see him at the next week's gathering. But when he tries to ask Evren out, his plans unravel faster than an unfinished edge. If Brady hopes to warm up more than Evren's coffee, he'll have to find a way to untangle their feelings, get out of the friend zone, and form a close-knit bond that's bound to last a lifetime…

Source: This book was received from Kensington and Netgalley in exchange for an honest review.
The Portland Heat series (and, really, anything by Annabeth Albert) is an auto buy for me. The first and second books won me over with their sweetness and the third book is such a comfort read that I've lost count of how many times I've read it. So it's no surprise that when Knit Tight became available I pounced.
If you've read Delivered Fast you've met Brady. I was dying for Brady to have his own story and was thrilled when I found Knit Tight was all about him. But I was completely derailed by Brady's love interest. Please note that I was THROWN off but certainly not put off. It's just that not in a million years did I expect Brady to be matched up with someone so perfectly put together. It was a wonderful contrast to Brady's long-haired skater/garage band look.
As always, there are plenty of obstacles in the way of our two love interests getting together but Brady and Evren struggled more than the other couples in this series. Their individual responsibilities coupled with Evren's insecurities over Brady's bisexuality brought plenty of turmoil to their relationship. Sometimes the conflict was drama filled. Hard to avoid that when one MC is trying to raise his three younger siblings and the other is caring for a family member who is dying of cancer. But it's not all angst and pain. Quite the contrary. Real life drama often leads to humor. The biggest amusement I found while reading this book was seeing these two trying to navigate sex around their insane schedules and distinct lack of privacy. Hard to have your boyfriend over when you share a two bedroom apartment with your three younger siblings. In the end these two find a way to be with one another, to lean on one another and to share each other's lives. Yes, there are some sad and frustrating happening in their lives, but the Happy Ever After makes everything worth it.
This is yet another excellent addition to the Portland Heat series. A series that I was happy to learn will have a fifth installment at the end of the year. YES!!! If you are looking for a romance that will gently squeeze your heart and make you smile the rest of the day, then Knit Tight is certainly for you.
Nat