Waiting on Wednesday is a weekly meme, hosted by Jill at
Breaking the Spine
, that highlights future releases that we are excitedly anticipating.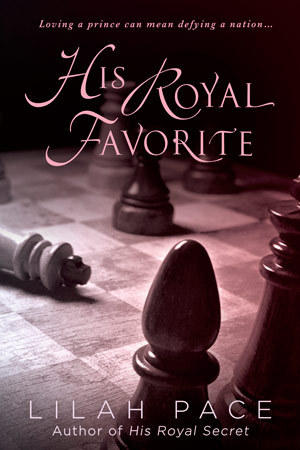 By Lilah Pace
Publication Date: August 16, 2016
The conclusion of Lilah Pace's racy, romantic male/male duology following His Royal Secret...

James, Prince of Wales, is making history. He's decided to come out to his subjects—and the world. However, telling the truth means exposing his relationship with lone-wolf reporter Benjamin Dahan. Although Ben never wanted commitment, the unexpected depth of his feelings leads him to join James in the media's harsh spotlight.

When the news story explodes across the globe, Ben can endure the mockery and dirty jokes. But after his tragic past is cruelly revealed, his life begins to implode. Can even his love for James be worth this?

James has it no easier. His revelation divides the country and sparks turmoil within the royal family. He must struggle to defend not only himself and Ben, but also his younger sister, who hovers on the brink of a breakdown that could endanger her life.

Is Ben strong enough to survive the onslaught and stand by James' side? And will James have to make a choice between Ben and the crown?
By Annabeth Albert
Publication Date: September 5, 2016
It's typical of video game programmer Josiah Simmons to be the last one on the plane on the way to the biggest meeting of his career. Though he's (mostly) coping with his ADHD, he can't handle another distraction. But he also can't ignore his rugged seatmate—especially once he learns the military man's a fan of his game.
Ryan Orson refuses to let his severe injuries pause his career as a navy SEAL. He's got hours of grueling physical therapy ahead of him, and no time for anything that might get in the way of his return to active duty. But that doesn't mean he's above a little first-class flirtation with geeky-cute Josiah.
When a delay strands the pair in St. Louis, they agree to share a hotel room and a night of gaming. Neither expects their new connection to move to the next level in the light of day. Opposites may attract, but is this game over before it's even begun?
Book Three of the #gaymers series
By Garrett Leigh
Publication Date: September 12, 2016
Ex-surfer-turned-businessman Liam Mallaney moved back to Holkham, Norfolk, to mourn the loss of his husband. Grief and loneliness keep him a solitary figure, and he likes it that way. There's no room in his broken heart for anything else.
Rentboy Zac Payne left London and most of his demons behind, but he still only knows one way to make a living. When he spots Liam in a club one night, it seems he's found his mark. But Liam proves nicer—and their connection far deeper—than he'd bargained for.
Their arrangement quickly becomes too complicated for Zac, who has other things on his mind: namely his BFF and wayward flatmate, Jamie. Zac owes Jamie the world, and even as Jamie's drug addiction destroys all they have, Zac won't leave him behind.
Besides, Liam knows nothing of Zac's home life, too caught up in his own head to think much beyond the crazy heat he and Zac share. But when trouble comes to Zac's door, putting his life in danger, Liam must set his grief and anger aside to pick up the pieces of Zac's shattered heart and his own.