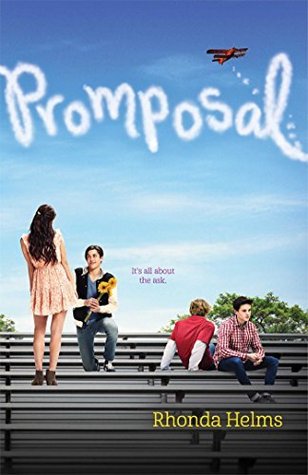 ***
promposal (n.)--an often public proposal, in which one person asks another to the prom, eliciting joy or mortification.

Camilla can't help hoping her secret crush, Benjamin, might randomly surprise her out of the blue with a promposal. However, when she's asked to prom by an irritating casual acquaintance--wearing a fancy tux and standing in front of a news crew--she's forced to say yes. Yet all hope's not lost. A timely school project gives Camilla a chance to get closer to Benjamin...and it seems like the chemistry between them is crackling. But is she reading into something that isn't there?

Joshua, Camilla's bestie, has been secretly in love with his gay best friend, Ethan, since middle school. Just as he decides to bite the bullet and ask Ethan if he'll go to prom with him, even if just as friends, he gets a shocking surprise: Ethan asks Joshua for help crafting the perfect promposal--for another guy. Now Joshua has to suppress his love and try to fake enthusiasm as he watches his dreams fall apart...unless he can make Ethan see that love has been right in front of his eyes the whole time.

The road to the perfect promposal isn't easy to navigate. But one thing's certain--prom season is going to be memorable.
Review:
Promposal is a cute story about two best friends, Camilla and Joshua, hoping against all odds that they will be able to attend prom with the long time objects of their affections. Camilla is blindsided by an over the top promposal from a classmate she barely knows. There are roses, music and even a news crew. How is a girl supposed to answer in the negative when the whole world is watching – including the proposer with such a hopeful look on his face? I really felt for Camilla. Although her experience is over the top, I think many of us can relate to being in awkward positions that leave us feeling frustrated and powerless.
During the weeks before prom, Camilla becomes closer to her crush, Benjamin, thanks to a group project in psychology class. But since she's already going to prom with her unwanted promposer (I totally just made that up – I think), Benjamin is only willing to take their growing relationship so far. In the end Camilla needs to decide what the smartest AND kindest course of action is. She also has to learn to communicate (not her strong suit in this situation) with both her prom date and her crush. There are plenty of awkward stumbles along the way as Camilla learns to accept that her prom experience won't be EXACTLY what she expected.
Camilla's best friend, Joshua, has had a crush on his other BFF, Ethan, for as long as he can remember. Their such good friends that Joshua is afraid of admitting his feelings and ruining one of the two best friendships he has. When Ethan asks him to help plan a promposal for another guy in their class, Joshua is heartbroken. But since they are friends he'll do it. Just as in Camilla's situation, Joshua has to learn not only how to communicate with Ethan but also decide if the possible fall out of confessing his feelings is worth the risk.
As I stated before, I think most people can identify with these two teens and the awkward scenarios they are trying to struggle through. The story is told in the first person POV and chapters alternate between Camilla and Joshua. The style worked well in this book since the two of them were such close friends and they could believably tell parts of each other's stories. As a reader the only thing I really missed was Benjamin and Ethan's POV. I was very curious as to what their thought processes were and why they made the decisions they did.
Promposal ended up being a perfect afternoon read that let me escape for a little while. I definitely recommend it if you are looking for the same thing.
Nat