Waiting on Wednesday is a weekly meme, hosted by Jill at
Breaking the Spine
, that highlights future releases that we are excitedly anticipating.
By Kate Clanchy
Publication Date: March 3, 2015
"Exceptional . . . Clanchy has a wincingly accurate eye for social comedy, a vivid descriptive sense, and profound understanding of her characters. This is a delectable read." --Daily Mail (UK)
In response to an advertisement, Struan Robertson, orphan, genius, and just seventeen, leaves his dour native town in Scotland, and arrives at a creaky mansion in London in the freakishly hot summer of 1989. His job, he finds, is to care for playwright and one-time literary star Phillip Prys, dumbfounded and paralyzed by a massive stroke, because, though Phillip's two teenage children, two wives, and a literary agent all rattle 'round his large house, they are each too busy with their peculiar obsessions to do it themselves. As the city bakes, Struan finds himself tangled in a midsummer's dream of mistaken identity, giddying property prices, wild swimming, and overwhelming passions. For everyone, it is to be a life-changing summer.
Kate Clanchy's
Meeting the English
is a bright book about dark subjects--a tale about kindness and its limits, told with love. It is a coming of age story for anyone who has ever felt themselves to be an outsider; a love story for the awkward; and a comedy for anyone who has ever lived in a family. Written by an acclaimed writer of poetry, non-fiction, and short stories, this glorious debut novel is spiked with witty dialogue and jostling with gleeful, zesty characters.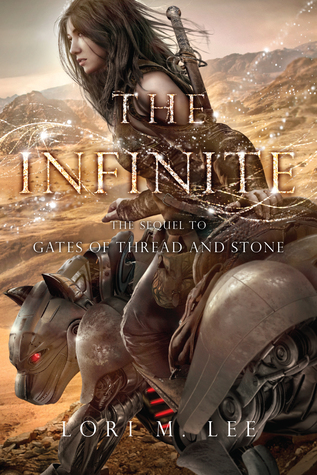 By Lori M. Lee
Publication Date: March 10, 2015
The walls of Ninurta keep its citizens safe.

Kai always believed the only danger to the city came from within. Now, with a rebel force threatening the fragile government, the walls have become more of a prison than ever.

To make matters worse, as Avan explores his new identity as an Infinite, Kai struggles to remind him what it means to be human. And she fears her brother, Reev, is involved with the rebels. With the two people she cares about most on opposite sides of a brewing war, Kai will do whatever it takes to bring peace. But she's lost her power to manipulate the threads of time, and she learns that a civil war might be the beginning of something far worse that will crumble not only Ninurta's walls but also the entire city.

In this thrilling sequel to Gates of Thread and Stone, Kai must decide how much of her humanity she's willing to lose to protect the only family she's ever known.