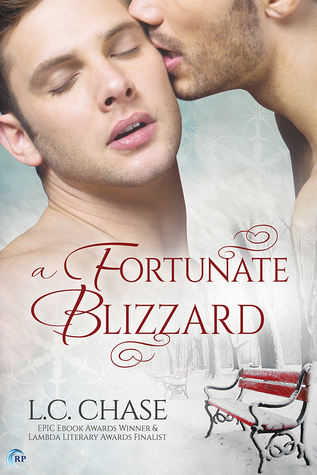 * * * 1/2
There are worse things than being stranded in a blizzard.

Artist Trevor Morrison has always appreciated the little things in life, treating each day as a gift. And with good reason: he's been on the transplant-recipient list for too long now. When he learns just how numbered his days truly are, he resolves not to take them for granted. But he won't be unrealistic, either—which means romantic commitments are off the table.

Marcus Roberts seems to have it all. He's handsome, financially sound, and on the fast track to partnership at a prestigious law firm. In reality, though, his drive for success has meant no time for friends or relationships. Add in the fact that his family discarded him long ago, and he's facing yet another holiday season alone.

When the biggest snowstorm to hit Colorado in decades leaves Marc and Trevor stranded at the same hotel, a chance encounter and a night of passion leads to more than either of them expected. Finding comfort in each other is a welcome surprise, but time is not on their side. Either they find a way to beat the odds, or they lose each other forever.
I love romance. Which is not really a secret. I also love my angst. Another non-secret. What I don't often love is insta-love or melodramatic stories. But then there are times when that type of story is just calling my name. That was the case with A Fortunate Blizzard by L.C. Chase. Not going to lie. I was a little afraid that it would reduce me to a puddle of tears. Fortunately it didn't. At least not the bad kind.
The day he is supposed to leave to visit family for the holidays, Trevor Morrison is told that his days on dialysis are numbered. If they can't find him a donor (which they likely won't due to his age and rare blood type) then he will likely die within the year. The decision he needs to make now, is whether he will choose to stop dialysis when he wants to or wait until his body makes the decision for him. Due to a huge snowstorm, Trevor's flight is cancelled and he is sent to a nearby hotel to await a new flight. He almost instantly notices the man sitting alone in the back of the diner attached to the hotel.
Marcus is a workaholic lawyer determined to make partner. With no attachments or family he didn't even realize the holidays were upon him until his paralegal sent him home before he got snowed in the office. His drive home ended on the freeway thanks to the snowstorm that shut down all roads. Trevor secures a room at a rapidly-filling nearby hotel and sits down to a drink and burger while watching groups of people take shelter. He is immediately drawn to the attractive man that is obviously trying to remain upbeat in spite of not being able to get a room.
The two of them meet in the diner and before long have decided to share Marcus' room for the night. One night blends into spending the Christmas holiday at Marcus' home. Their instant attraction quickly grows into something more. For the first time ever, Marcus can see a relationship lasting forever. And Trevor? He is devastated at the timing of finally finding what he's wanted for so long. At the end of the holiday, Trevor leaves to catch his flight back to his parent's for New Year's and Marcus is left trying to figure out how he can not only convince Trevor to let them have this short time together but to also figure out if he is possibly a donor match.
Oh man. Does your heart hurt already? Because mine did before I even started the book. But here's the thing. This story WORKS. It's really, really enjoyable. And I'll just tell you now. It doesn't end the way you think it's going to. Soulmate does not equal same blood type. I'll spoil it for you now and tell you that they do get their happy ever after. I won't tell you how. Only that it's not TOO easy but it's still a happy ever after. And that's what romance is all about.
Sometimes I want my stories to be messy. And sometimes I want them to be all wrapped up with a pretty bow. With this I got both. It was like one of those perfect Hallmark or Lifetime or ABC Family Christmas stories. Where everything looks sad and hopeless until that perfect Christmas miracle comes through. Every year we have a little Bibliojunkies Christmas party and watch feel good Christmas movies from at least one of the above channels. I can guarantee that if A Fortunate Blizzard were made into a movie it would most definitely be the one we watch this year.