Waiting on Wednesday is a weekly meme, hosted by Jill at
Breaking the Spine
, that highlights future releases that we are excitedly anticipating.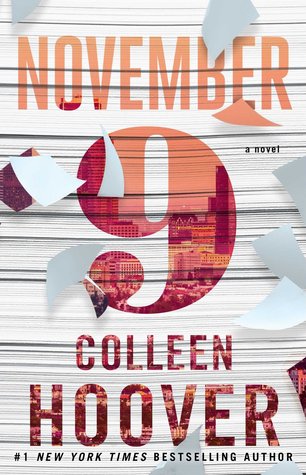 By Colleen Hoover
Publication Date: November 8, 2015
Beloved #1 New York Times bestselling author Colleen Hoover returns with an unforgettable love story between a writer and his unexpected muse.
Fallon meets Ben, an aspiring novelist, the day of her scheduled cross-country move. Their untimely attraction leads them to spend Fallon's last day in L.A. together, and her eventful life becomes the creative inspiration Ben has always sought for his novel. Over time and amidst the various relationships and tribulations of their own separate lives, they continue to meet on the same date every year. Until one day Fallon becomes unsure if Ben has been telling her the truth or fabricating a perfect reality for the sake of the ultimate plot twist
By Ally Carter
Publication Date: December 22, 2015
Inside every secret, there's a world of trouble. Get ready for the second book in this new series of global proportions--from master of intrigue, New York Times bestselling author Ally Carter.

Grace's past has come back to hunt her . . . and if she doesn't stop it, Grace isn't the only one who will get hurt. Because on Embassy Row, the countries of the world stand like dominoes, and one wrong move can make them all fall down.

The twists get twistier and the turns get even more shocking in the second thrilling installment of Embassy Row.
By Amy Jo Cousins
Publication Date: November 17, 2015
When talking fails, it's time to break out the big guns.
Five years ago, Tom Worthington busted his ass to overcome the fear and paranoia that led him to withdraw from the world and nearly lose his boyfriend. He never thought he'd find himself right back there, shutting Reese out, keeping secrets again.
Reese Anders is ready to try anything to get Tom to talk: if he can't seduce his boyfriend with food, he'll get Tom to open up in bed. But even Tom's confession that his dad is getting out of prison soon doesn't clear the air between them. And as the holidays approach, intensive mentoring from a new British boss creates more distractions, until Reese is keeping secrets of his own.
At a company Christmas party, it only takes Tom one look at Reese's new boss to figure out how much danger their relationship is in. But he's not about to let the connection that started all those years ago at Carlisle come to an end. It's time to deal with their problems like adults. Face to face. Or back to front. Starting in the bedroom.
Warning: This book contains two adorable guys with way too many secrets, conciliatory rigatoni, a bedroom lesson on the power of multitasking, and indisputable evidence on what makes the perfect holiday HEA.