Waiting on Wednesday is a weekly meme, hosted by Jill at
Breaking the Spine
, that highlights future releases that we are excitedly anticipating.
By Heather Grothaus
Publication Date: December 22, 2015
In the medieval Holy Land, four brave Crusaders fight tyranny and betrayal. They are the Brotherhood of Fallen Angels—and one by one, they may discover that love is the greatest adventure of all…
From palaces and cathedrals to fortresses, Adrian Hailsworth's engineering genius is evident across the land—including the castle of Chastellet. But a bloody siege has left the stronghold, and Adrian, in ruins. Now a wanted man, he is forced into hiding at The Brotherhood of Fallen Angels Abbey, his brilliant mind plagued with nightmares, his spirit broken—until Father Victor presents him with a fiery redhead in need of help only Adrian can give…
Maisie Lindsay is the lady-in-waiting to the Queen of Wyldonna, a small kingdom off the Scottish coast that is being blackmailed—by none other than the Brotherhood's most treacherous enemy. The only chance of saving Wyldonna lies in unearthing its vast fortune, hidden within a labyrinth of deadly traps and secret passages. The challenge enlivens Adrian—as does the passion Maisie ignites. But she is far more than she appears, and the truth may force Adrian to sacrifice his heart's longing to save her, before it's too late for them all…
By Annabeth Albert
Publication Date: December 7, 2015
Adrian Gottlieb is winning at life. He's a successful video game designer with everything a man could ask for, including a warm comfy ride to Denver and a date for his sister's wedding. But he finds himself in need of a total reboot when he's left stranded at a snowy campground in Utah. Holiday plans? Epic fail.
That is until Noah Walters offers him shelter for the night and a reluctant cross-country ride. Nothing about the ultraconservative geoarchaeologist should attract Adrian, but once he discovers Noah's hidden love for video games, the two connect on a new level. Soon, a quiet but undeniable chemistry sparks.
Something doesn't add up, though. As the miles accumulate and time runs out, Noah must face the most difficult choice of his life. Meanwhile, Adrian must decide whether he's ready to level up. Is their relationship status worth fighting for, or has this game ended before it's even begun?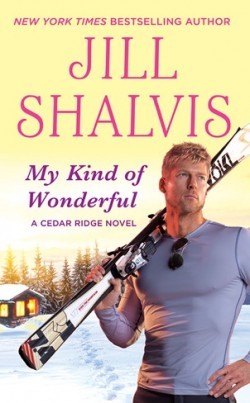 By Jill Shalvis
Publication Date: December 22, 2015
UNEXPECTED AND UNDENIABLE...
Bailey Moore has an agenda: skiing in the Rockies, exploring castles in Europe, ballroom dancing in Argentina. Now that she has a second lease on life, she's determined not to miss a thing. What she doesn't realize is that item #1 comes with a six-foot-one ski god hot enough to melt a polar ice cap. She doesn't want to miss out on him either, but Hudson Kincaid isn't the type of guy to love and let go. And as gorgeous as Cedar Ridge is, she's not planning to stick around.
As head of ski patrol at his family's resort, Hud thinks he's seen it all. But never has he run into someone like Bailey. She might look delicate, but her attitude is all firecracker. And her infectious joy touches something deep within him that he's been missing far too long. Now he'll just have to convince Bailey to take a chance on her biggest adventure yet . . . something rare and all kinds of wonderful.