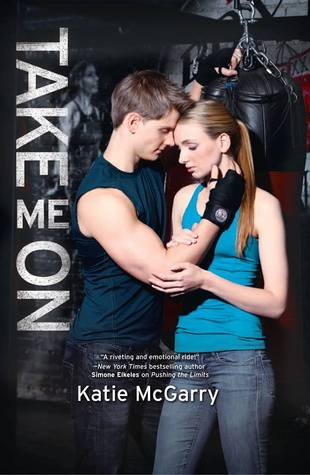 * * * * *
Acclaimed author Katie McGarry returns with the knockout new story of two high school seniors who are about to learn what winning really means.
Champion kickboxer Haley swore she'd never set foot in the ring again after one tragic night. But then the guy she can't stop thinking about accepts a mixed martial arts fight in her honor. Suddenly, Haley has to train West Young. All attitude, West is everything Haley promised herself she'd stay away from. Yet he won't last five seconds in the ring without her help.
West is keeping a big secret from Haley. About who he really is. But helping her-fighting for her-is a shot at redemption. Especially since it's his fault his family is falling apart. He can't change the past, but maybe he can change Haley's future.
Hayley and West have agreed to keep their relationship strictly in the ring. But as an unexpected bond forms between them and attraction mocks their best intentions, they'll face their darkest fears and discover love is worth fighting for.
Review:
Hayley just wants to get back "home" with her dad's anti-anxiety meds. Her strict and controlling uncle will readily throw her out-of-work father and his family out on the streets if she is a minute late for curfew. But a couple guys looking to score some free drugs decide to follow her home and make the night difficult. Enter West Young. After almost running Hayley over in the pharmacy parking lot, he notices the two shady guys bothering her and decides to follow her home to ensure her safety. The night ends with West knocked out, the drugs gone and Hayley late for curfew.
That night's events lead to West agreeing to a professional fight - a fight that Hayley tries desperately to stop. But West is determined to "protect" Hayley and soon Hayley is training him in her grandfather's gym. What follows is the story of two teens from completely different worlds finding each other while fighting to survive their surprising similar struggles.
As is always the case with books I love, the main characters in this book have completely won over me and my emotions. Hayley is tough as nails - and not because she's a total bad-ass kick boxer. She (and her family) has had a horrendous year. Her father has lost his job, they've lost their home and everything they own, they've spent time living in a shelter and they are now trying to live quietly and peacefully in her bat s*&@ crazy uncle's tiny house. On top of that, Hayley is trying to graduate high school, secure some sort of financial aid for college, work a part time job AND tip-toe around her brother, cousin and grandfather. All who feel that she betrayed them when she left her grandfather's gym to train with her ex-boyfriend at a rival gym. Hayley is doing everything she can to keep it together. Training West Young is the last thing she needs on her already overfull plate.
West Young is another great example of an expert author taking a previously unsavory character (at least unsavory to me) and making him so loveable that you just want to give him the world. West Young was near the top of the list of people I was uncontrollably angry at the end of Crash Into You. But I should have known that having the same parents as Rachel Young would mean that the temperamental and overprotective West is in desperate need of love and compassion. West holds himself responsible for his sister, Rachel's, accident. He is afraid to visit her in the hospital but haunts the waiting room to hear news on her recovery. During one of his waiting room haunts, West and his dad have an argument that ends in West being kicked out of the house and sent to the public high school. West packs his things and takes off as requested. Only to find he has nowhere to stay and no money. He quickly takes the steps he needs to survive – including taking a job as a handyman at a local bar, living in his car and learning to ignore an empty stomach because he simply can't afford to eat three meals a day. After living a rich and privileged life, this new experience is rough and hard. But West finds that he is a survivor.
This might be my favorite Katie McGarry novel yet. As she has done in her other novels, McGarry takes two teens from polar opposite situations and brings them together. Showing the reader that everyone has something they are fighting for and/or against. And that not any one person's struggle can be judged harder or easier than another's. If you have enjoyed other Katie McGarry novels and you love a tough heroine AND a tough hero, Take Me On is definitely for you.