Waiting on Wednesday is a weekly meme, hosted by Jill at
Breaking the Spine
, that highlights future releases that we are excitedly anticipating.
By Audrey O'Connor
Publication Date: April 6, 2015
Freshly minted grad Emilia Noble arrives in Costa Rica to teach English in the tropical community of Pacifica. Its carefree, pura vida lifestyle is a welcome contrast to her dark and wintry origins. Tossing caution aside like an old winter coat, she plunges headfirst into an exotic cocktail of sensory pleasure.
Diego is a local whose surfer body and cool detachment make Lia buzz with a long-lost thrill. Fascinated by her new environment, she can't help but wonder about the moody inner workings of the boy with triceps like Wolverine and a grimace to match.
Diego seems to have no problem ignoring Lia, though. Caught up in his family's conflicted attitude toward foreigners, he notices her only when it's convenient. But as Lia thrives in her new surroundings, Diego might just find reason enough to defy his embattled, insular father. When north and south are mixed together, the results are intoxicating.
By Kelli Ireland
Publication Date: April 7, 2015
Hiding places are scarce when both Heaven and Hell intend to find you.

Dani Fayel's backbreaking job as a stable hand at The Freaks' Fair isn't glamorous, but for someone looking to keep to the shadows? It's perfect. Neither paranormal freaks nor human norms ever notice her. But when Dani is forced to either let a child die in order to maintain her anonymity or choose to save him and risk being discovered, she finds herself unwillingly thrust into the spotlight.

Cain, Hell's premier assassin and a predatory incubus, is close to fulfilling his final contract and earning his freedom. Hired by the Archangel of Death to find his daughter, Cain follows her trail to the Fair. He works undercover, certain his mark is inside one of the portable canopies or traveling cages. Dead or alive, she equals his ticket to freedom.

When Cain's objective is divulged, Dani realizes she can't outrun her destiny. As the fabled Key—the one soul with absolute free will who is tied to the three realms of Heaven, Earth and Hell—only she is capable of opening the gates for the Four Horsemen of the Apocalypse. Whoever frees the Horsemen allegedly commands them. Now both Heaven and Hell are vying for her allegiance, and there are no limits as to how dirty they'll fight to obtain it. With Hell raining indiscriminate chaos as Heaven maneuvers its players around her, Dani realizes her would-be assassin may be the only man capable of helping her survive.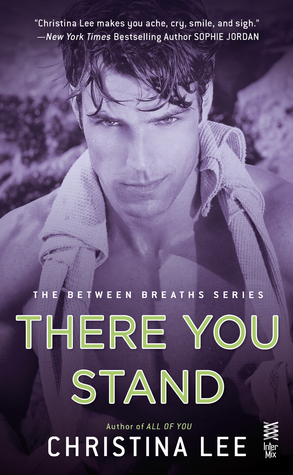 By Christina Lee
Publication Date: April 21, 2015
From the author of All of You and Before You Break comes a new Between Breaths male/male standalone romance about the silent, inked up skateboarder and the tattoo artist who unravels him piece by piece…
Tattoo artist Cory Easton has worked long enough at Raw Ink to know, just by looking at a dude, what his body art reveals, what makes him tick, what even makes him scared. Until he meets the quiet and remote Jude York—so unreadable, so unreachable, and so unlike anyone else, he can't help but arouse Cory's curiosity.

As captivating and complex as his ink, Jude is a mystery—and Cory's falling fast and hard under his spell. Against his better judgment to steer clear.

The rumors of Jude's past overshadow him—whispers of prison and an unmentionable secret that's kept him in the protective shadows of a local motorcycle club. As Cory probes deeper, he wonders how much he really wants to know. Especially since Jude has awakened something inside him that has been buried too long—and has him feeling completely alive for the first time in forever…