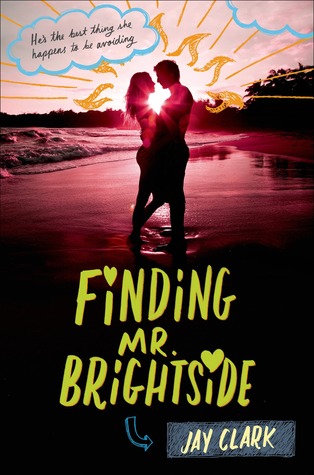 Abram and Juliette know each other. They've lived down the street from each other their whole lives. But they don't really know each other—at least, not until Juliette's mom and Abram's dad have a torrid affair that culminates in a deadly car crash. Sharing the same subdivision is uncomfortable, to say the least. They don't speak.
Fast-forward to the neighborhood pharmacy, a few months later. Abram decides to say hello. Then he decides to invite her to Taco Bell. To her surprise as well as his, she agrees. And the real love story begins.
I am not ashamed to admit that I requested this book based on the title. I mean, I DID read the synopsis. But if I am going to be honest, this Killers fan was going to request this book from Netgalley no matter the subject matter. Fortunately, I'm smart enough (sometimes) to know that this wouldn't likely have any Killers references. And unless I'm seriously missing something, it didn't. However, that didn't stop me from thoroughly enjoying Abram and Juliette's story.
Abram has been watching Juliette for a while now. Even he admits it's kind of creepy. But to be fair it's kind of hard to figure out how to approach the daughter of your dead father's dead lover. Yeah. Awkward. When he runs into her at CVS he doesn't waste the opportunity. They talk and he even convinces her to go with him to Taco Bell. But only for ten minutes. Juliette's rule, not his. But, hey, Abram will take what he can get.
Whether it was nurture or nature, Juliette's mother has greatly influenced Juliette's outlook on life. Since she is always suspicious, Juliette doesn't fully trust her attraction to Abram. Nor does she trust Abram's obvious attraction to her. So she proceeds with caution and distrust. It's the only way she knows how to approach anything in life. But all that suspicion doesn't stop her from carefully navigating a fragile relationship with her the son of her mom's lover.
Both Juliette and Abram (Juliette especially) worry that their attraction to each other can't be separated from their dysfunctional shared history. But as they spend more time together they find that the chemistry is real. They also find a way to come to terms with their parents' mistakes and to remember some of the good things their parents did when they were alive.
Being a fan of contemporary YA and Adult romance/fiction, I try to be a little more forgiving of character flaws. Because, for me, that's the point of contemporary fiction. To read about real people with real life problems and personalities. And, as we all know, real people are imperfect. These two main characters are young. And although they have experienced more than any teen should, they still lack some of the life experience and sensitivity that comes with time and age. At times, this is obvious in the way they refer to people and things.
But that doesn't take away from the growth they both experience. They both lift each other up. Abram helps Juliette be spontaneous and see the joy in the little things around them. Juliette helps Abram find the motivation he lost when he lost his dad. Their relationship had the possibility of being unhealthy but together their positive influences shine through.
This ended up being another great addition to the world of contemporary YA. Not only are the main characters well developed, the adult characters are great too. Although they were originally connected because of mistakes made by their deceased parents, the real adult influences in their life are their surviving parents. Abram's mom is full of love and laughter and it's no surprise where he gets his ability to enjoy life. Juliette's dad, although a bit absent-minded, is full of love for his daughter. A trait that makes all the difference in Juliette's life by the end of the book.
If you love contemporary YA as much as I do, I highly recommend you pick up and read Finding Mr. Brightside.