Waiting on Wednesday is a weekly meme, hosted by Jill at
Breaking the Spine
, that highlights future releases that we are excitedly anticipating.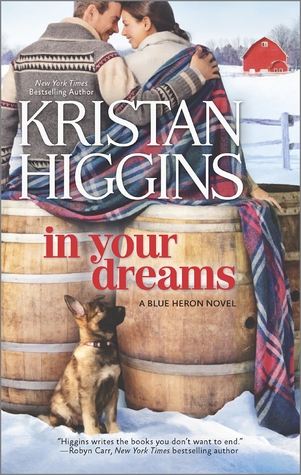 Title: In Your Dreams
Author: Kristan Higgins
Publication Date: September 30, 2014
Publisher: Harlequin
Emmaline Neal needs a date. Just a date—someone to help her get through her ex-fiancé's wedding without losing her mind. But pickings are slim in Manningsport, New York, population 715. In fact, there's really only one option: local heartthrob Jack Holland. Everyone loves Jack, and he won't get the wrong idea…. After all, Jack Holland would never actually be interested in a woman like Em. Especially not with his beautiful ex-wife creeping around, angling to reunite ever since he rescued a group of teens and became a local hero.
But when the wedding festivities take an unexpectedly passionate turn, Em figures it was just one crazy night. Jack is too gorgeous, too popular, to ever end up with her. So why is she the one he can talk to about his deep, dark feelings? If Em is going to get her dream man, she'll have to start by believing in him…
Title: He's So Fine
Author: Jill Shalvis
Publication Date: September 30, 2014
Publisher: Grand Central Publishing
For Olivia Bentley, Lucky Harbor is more than the town where she runs her new vintage shop. It's the place where folks are friendly to strangers-and nobody knows her real name. Olivia does a good job of keeping her past buried, not getting too cozy with anyone . . . until she sees a man drowning. Suddenly she's rushing into the surf, getting up close and personal with the hottest guy she's ever laid hands on.
Charter boat captain Cole Donovan has no problem with a gorgeous woman throwing her arms around his neck in an effort to "save" him. In fact, he'd like to spend a lot more time skin-to-skin with Olivia. He's just not expecting that real trouble is about to come her way. Will it bring her deeper into Cole's heart, or will it be the end of Olivia's days in little Lucky Harbor?