Waiting on Wednesday is a weekly meme, hosted by Jill at
Breaking the Spine
, that highlights future releases that we are excitedly anticipating.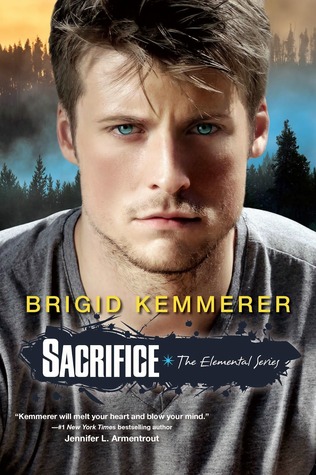 We are all huge fans of The Elemental Series and can't wait to read Michael's story. And this cover? Swoon!
Title: Sacrifice
Author: Brigid Kemmerer
Publication Date: September 30, 2014
Publisher: Kensington Teen
One misstep and they lose it all. For the last time.
Michael Merrick is used to pressure.
He's the only parent his three brothers have had for years. His power to control Earth could kill someone if he miscalculates. Now an Elemental Guide has it out for his family, and he's all that stands in the way.
His girlfriend, Hannah, gets that. She's got a kid of her own, and a job as a firefighter that could end her life without a moment's notice.
But there are people who have had enough of Michael's defiance, his family's "bad luck." Before he knows it, Michael's enemies have turned into the Merricks' enemies, and they're armed for war.
They're not interested in surrender. But Michael isn't the white flag type anyway. There will be blood on the ground tonight…
Title: The Wonder of All Things
Author: Jason Motts
Publication Date: September 30, 2014
Publisher: Mira
From critically acclaimed and New York Times bestselling author Jason Mott comes a spellbinding tale of love, sacrifice and the power of miracles.
On an ordinary day, at an air show like that in any small town across the country, a plane crashes into a crowd of spectators, killing and injuring dozens. But when the dust clears, a thirteen-year-old girl named Ava is found huddled beneath a pocket of rubble with her best friend, Wash. He is injured and bleeding, and when Ava places her hands over him, his wounds miraculously disappear. Ava has a unique gift: she can heal others of their physical ailments. Until the air show tragedy, her gift was a secret. But now the whole world knows, and suddenly Ava is thrust into the spotlight. People from all over the globe begin flocking to her small town, looking for healing and eager to glimpse the wonder of a miracle. But Ava's unusual ability comes at a great cost, her own health, and as she grows weaker with each healing, Ava begins searching for an escape. Wash agrees to help Ava, but little does she know he has his own secret he's been harboring, and soon Ava finds herself having to decide just how much she's willing to sacrifice in order to save the one she loves most.
(