Waiting on Wednesday is a weekly meme, hosted by Jill at
Breaking the Spine
, that highlights future releases that we are excitedly anticipating.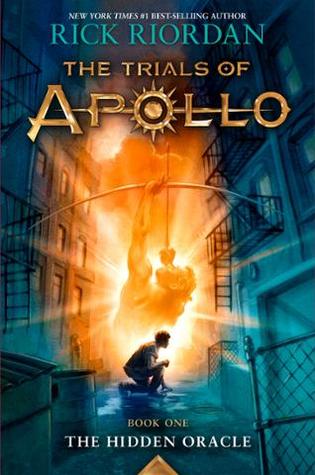 By Rick Riordan
Publication Date: May 3, 2016
How do you punish an immortal?
By making him human.
After angering his father Zeus, the god Apollo is cast down from Olympus. Weak and disorientated, he lands in New York City as a regular teenage boy. Now, without his godly powers, the four-thousand-year-old deity must learn to survive in the modern world until he can somehow find a way to regain Zeus's favour.
But Apollo has many enemies - gods, monsters and mortals who would love to see the former Olympian permanently destroyed. Apollo needs help, and he can think of only one place to go . . . an enclave of modern demigods known as Camp Half-Blood.
By Robin Constantine
Publication Date: May 10, 2016
From Robin Constantine, author of The Promise of Amazing andThe Secrets of Attraction, comes a funny and heartfelt summer romance set in New Jersey. Perfect for fans of Sarah Mlynowski, Jenny Han, and Morgan Matson.

Cassidy Emmerich is reeling from a sudden, humiliating breakup. The last thing she wants to do is stick around and be reminded of her ex everywhere she goes. On impulse, she decides to spend the summer with her father and his family at their Jersey Shore bed-and-breakfast. A different scene and a new job working as a camp counselor seem like the perfect recipe for forgetting Gavin as quickly as possible—not to mention for avoiding him until he leaves for college.

Bryan Lakewood is sick of nevers. You'll never walk. You'll never surf. You'll never slow dance with a girl and have her put her head on your shoulder. Last year he made one false move—now he's paralyzed and needs to use a wheelchair. But this summer, he's back at his camp job and is determined to reclaim his independence—and his confidence.

Cass is expecting two months of healing her broken heart.

Bryan is expecting a summer of tough adjustments.

Neither is expecting to fall in love.
By Stacey Lee
Publication Date: May 24, 2016
From the author of the critically acclaimed Under a Painted Sky, an unforgettable story of determination set against a backdrop of devastating tragedy.

San Francisco, 1906: Fifteen-year-old Mercy Wong is determined to break from the poverty in Chinatown, and an education at St. Clare's School for Girls is her best hope. Although St. Clare's is off-limits to all but the wealthiest white girls, Mercy gains admittance through a mix of cunning and a little bribery, only to discover that getting in was the easiest part. Not to be undone by a bunch of spoiled heiresses, Mercy stands strong—until disaster strikes.

On April 18, an historic earthquake rocks San Francisco, destroying Mercy's home and school. With martial law in effect, she is forced to wait with her classmates for their families in a temporary park encampment. Mercy can't sit by while they wait for the Army to bring help. Fires might rage, and the city may be in shambles, yet Mercy still has the 'bossy' cheeks that mark her as someone who gets things done. But what can one teenaged girl do to heal so many suffering in her broken city?

Breakout author Stacey Lee masterfully crafts another remarkable novel set against a unique historical backdrop. Strong-willed Mercy Wong leads a cast of diverse characters in this extraordinary tale of survival.