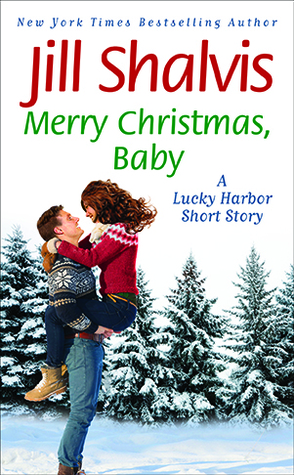 New York Times
bestselling author Jill Shalvis brings you a heartwarming tale that could only happen in Lucky Harbor . . .

SEASON'S KISSES

Wild child Chloe Thompson can't believe how much things have changed. She still can't get enough of her sexy husband Sawyer, but he seems to prefer working to thinking about impending fatherhood. So tonight, a very pregnant Chloe is escaping her troubles at the town Christmas party.

Sheriff Sawyer Thompson hopes surprising Chloe at the party will give him a chance to set things right. But as the snow begins to fall and the wind rages, he wonders whether he can make it back in time. While mother nature conspires to keep Sawyer and Chloe apart, an unexpected arrival will require them to kiss and make up . . . and ring in the happiest holiday Lucky Harbor has ever seen. 13,000 words
Review:
The very first Jill Shalvis book I ever read was Head Over Heals (Lucky Harbor #3). So I considered it absolutely necessary to add it to my TBR pile while I worked to satisfy my annual compulsion to mainline Christmas romances.
Chloe is about a bazillion months pregnant and Sawyer is going out of town. It's his last chance to earn the extra cash that is allowing them add an additional room to their house. Understandably, Chloe is upset. But she isn't only upset about him leaving. No matter how much confidence Chloe exudes, inwardly she is always feeling insecure. Add the pressure of an unplanned pregnancy and she is slowly convincing herself that Sawyer doesn't really want her or their baby.
But thanks to family and friends and the mysterious gifts she keeps receiving, she manages to keep her head above water until Sawyer comes home and they can work things out. Unfortunately, a snowstorm has half the town of Lucky Harbor (including Chloe) stuck at a holiday party and Sawyer stuck on the road. On top of it all, it looks like the baby isn't waiting for its parent to make before making a big arrival.
It was too much fun reading about Chloe and Sawyer again. I had forgotten about how much of a free spirit she is. It's almost exhausting. And her sticky fingers are absolutely hilarious. It's a miracle her sister, Tara, hasn't strangled her yet. On top of the constant amusement Chloe provides, there is the usual Lucky Harbor hijinks - mainly those caused by the boundary-crossing Lucille. That woman will do anything for a few FB page hits.
If you are a fan of the Lucky Harbor books or if you are just a fan of happy sentimental holiday stories with Shalvis' signature quirky heroines then Merry Christmas, Baby is a must read.