Waiting on Wednesday is a weekly meme, hosted by Jill at
Breaking the Spine
, that highlights future releases that we are excitedly anticipating.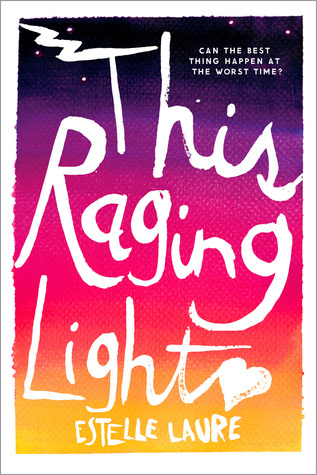 By Estelle Laure
Publication Date: December 22, 2015
Can the best thing happen at the worst time?
Her dad went crazy. Her mom left town. She has bills to pay and a little sister to look after. Now is not the time for level-headed seventeen-year-old Lucille to fall in love. But love—messy, inconvenient love—is what she's about to experience when she falls for Digby Jones, her best friend's brother. With blazing longing that builds to a fever pitch, Estelle Laure's soulful debut will keep readers hooked and hoping until the very last page.
By Marnee Blake
Publication Date: December 28, 2015
A new adult romance from Entangled's Embrace imprint...
When "normal" ends, survival begins...
The sickness came on suddenly and violently. When it was done, waitress Blue Michaels was different in a really strange way. And the entire town of Glory was dead...except for her.
Only that's not exactly true. A handful of people made it, including U.S. Army Specialist Seth Campbell, who was caught in the wrong town at the worst time. He's fierce and protective, and way too good-looking. As much as they need a leader—as much as Blue wants to trust him—there are too many questions and not enough time for answers. Now they are hunted. But what their pursuers don't know is each of them has strange new powers. And they'll use their "gifts" to survive...no matter who stands in their way.
By Kristan Higgins
Publication Date: December 29, 2015
Before you get down on bended knee…
…you should be pretty darn sure the answer will be yes. For ten years, Connor O'Rourke has been waiting for Jessica Dunn to take their on-again, off-again relationship public, and he thinks the time has come. His restaurant is thriving, she's got her dream job at Blue Heron Vineyard—it's the perfect time to get married.
When he pops the question, however, her answer is a fond but firm no. If it ain't broke, why fix it? Jess has her hands full with her younger brother, who's now living with her full-time, and a great career after years of waitressing. What she and Connor have
is
perfect: friends with an excellent benefits package. Besides, with her difficult past (and reputation), she's positive married life isn't for her.
But this time, Connor says it's all or nothing. If she doesn't want to marry him, he'll find someone who does. Easier said than done, given that he's never loved anyone but her. And maybe Jessica isn't quite as sure as she thinks…