Waiting on Wednesday is a weekly meme, hosted by Jill at
Breaking the Spine
, that highlights future releases that we are excitedly anticipating.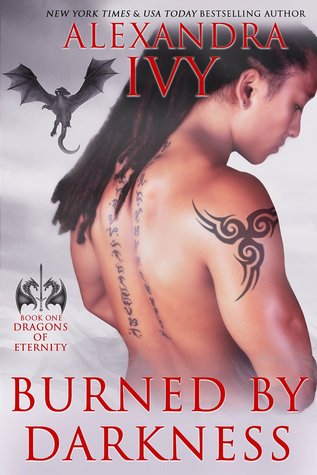 By Alexandra Ivy
Publication Date: July 22, 2015
The Dragons of Eternity were once creatures of myth and legend. Now they've returned to the world, prepared to claim what's rightfully theirs…
Tayla is desperate for a place to call home. After years on the run, the young imp impulsively buys a teahouse and is determined to build a new life. Unfortunately, she's barely opened the doors when she's tracked down by the dragon who purchased her from troll slave-traders. He demands she pay off her debts…in his harem.
Baine has devoted a quarter of a century to tracking down his beautiful concubine. And now that he has her in his grasp, he's not about to let her go. But it's soon apparent that he isn't the only demon hunting her. He must uncover her secrets or risk losing her forever.
By Lia Riley
Publication Date: August 4, 2015
Sometimes two wrongs can make a right...
Bad boy wrangler, Archer Kane, lives fast and loose. Words like responsibility and commitment send him running in the opposite direction. Until a wild Vegas weekend puts him on a collision course with Eden Bankcroft-Kew, a New York heiress running away from her blackmailing fiancé…the morning of her wedding.
Eden has never understood the big attraction to cowboys. Give her a guy in a tailored suit any day of the week. But now all she can think about is Mr. Rugged Handsome, six-feet of sinfully sexy country charm with a pair of green eyes that keeps her tossing and turning all night long.
Archer might be the wrong guy for a woman like her, but she's not right in thinking he'll walk away without fighting for her heart. And maybe, just maybe, two wrongs can make a right.
By Heidi Cullinan
Publication Date: August 11, 2015
With the quiet help of his wealthy family, Sebastian "Baz" Acker has successfully kept his painful past at bay. But as the end of college draws near, his friends—his buffer zone—are preparing to move on, while his own life is at a crippling standstill.With loneliness bearing down on him, Baz hooks up—then opens up—with Elijah Prince, the guy Baz took a bullet for last year. The aftershocks of their one-night stand leave giant cracks in Baz's carefully constructed armor. For the first time, the prospect isn't terrifying.

Accustomed to escaping his demons by withdrawing into his imagination, Elijah isn't used to having a happy herd of friends. He's even less comfortable as the object of a notorious playboy's affections. Yet all signs seem to indicate this time happiness might be within his grasp. When Baz's mother runs for a highly sought-after public office, the media hounds drag Baz's and Elijah's pasts into the light. In the blinding glare, Baz and Elijah face the ultimate test: discovering if they're stronger together…or apart.


Warning: Contains sex in a Tesla, sex in a cupboard, sex under a piano, kinky role play, and a cappella RuPaul songs. Just a couple of boys groping, battling, then finally loving their way to becoming men.