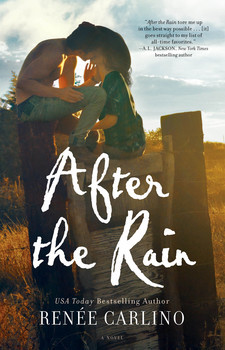 ** 1/2
From the
USA TODAY
bestselling author of
Sweet Thing
and
Nowhere But Here
comes a deeply emotional contemporary romance about the second chances waiting beyond the shattered dreams of youth.
Under the bright arena lights of a rodeo show, young Avelina Belo falls for a handsome cowboy with a larger-than-life personality. After a whirlwind courtship, she happily moves away from her family in northern California and settles into married life with her cowboy on a seven-thousand-acre cattle ranch in Montana. One freak accident later, Avelina's hopes for the future come to an end.
Nate Myers graduated from UCLA medical school at the top of his class, ready to follow in the footsteps of his father, a superstar cardiothoracic surgeon. Six years later, Nate's career is being ruined by a malpractice suit. Questioning himself for the first time, he retreats to a Montana cattle ranch to visit his uncle and gain perspective. There, he meets a beautiful young woman named Avelina who teaches him more than he ever knew about matters of the heart.
Review:
After the Rain begins by showing the reader the history of both Avelina (Ava) and Nate before they meet each other. To me, this was arguably one of the best parts of the book. Seeing the events that shape these two, the experiences that produce the insecurities and fears that draw them together, is tragically moving.
When Nate arrives at the ranch he used to visit as a child he immediately notices Avelina. And she notices him. Their mutual attraction slowly draws Avelina out of the shell she's been hiding in since her husband died. Everyone at the ranch is thrilled to see Ava waking up after years of silence and sadness.
But a relationship can only go so far after so many dysfunctional years. Ava is horribly insecure. She is also more than a little jealous. And Nate? Well, Nate has been so focused on work the past few years that he's hardly interacted with anyone on a non-professional level. On top of that he's never had a relationship. Neither of these two are ready for a relationship.
This is where my review becomes slightly
spoilery
….
Both Nate and Ava have a lot of growing up to do before having a relationship. Unfortunately, the majority of this story is focused on the angst and melodrama of two people not ready for a relationship. Eventually Ava steps up and insists that they need time away from each other so they can become more functional adults. After that, maybe they can continue their relationship. Unfortunately, this part of the story all happens in the last few chapters of the book. After watching their struggles, I would have loved to watch them grow while they were apart. Particularly Ava, since she had so dealt with so much loss and had so much to learn and so many GOOD things to experience.
This wasn't my favorite romance of the year but I can't deny that Nate and Ava were an interesting couple that kept me reading to the end. I HAD to know if they got their happy ending. Did they? You'll just have to read After the Rain and find out for yourself.
Nat
no