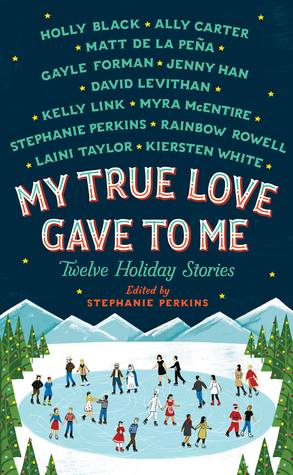 * * * 3/4
If you love holiday stories, holiday movies, made-for-TV-holiday specials, holiday episodes of your favorite sitcoms and, especially, if you love holiday anthologies, you're going to fall in love with MY TRUE LOVE GAVE TO ME: TWELVE HOLIDAY STORIES by twelve bestselling young adult writers, edited by international bestselling author Stephanie Perkins.
Review:
When I first heard about this book, I about lost my business. I mean seriously? Not only most of my favorite YA authors in one anthology but most of my favorite YA authors writing Christmas stories! Hell, yeah!
This compilation delivers just as the title and the contributing authors suggest. The best story (in my opinion, of course) was the very first story - Midnights by Rainbow Rowell. I enjoyed it so much I re-read it twice before moving on to the rest of the book. I couldn't help but wonder if leading with such a great story didn't put the other stories and authors at an unfair disadvantage. But they had nothing to fear. Each author put their heart into their story and it shows. There really is something for everyone. If you love YA and you love Christmas, this book is definitely for you.
So how do I review this? In the past, when reviewing collections like this, I've just highlighted my favorite stories. But each of these stories deserved some attention so I went ahead and gave my rating and opinion on each. I really hope you all will read this. I put it up there with Dash and Lily's Book of Dares for happy holiday reading.
Midnights by Rainbow Rowell 5/5 –This follows two best friends from their first high school NYE party to their latest NYE celebration. This was my absolute favorite. Rowell just GETS romance.
The Lady and the Fox by Kelly Link 3/5 – A magical love story between a girl and a ghost (of sorts) that only appears at Christmas when it is snowing. Their affection develops over the years and the grown girl attempts to keep him with her.
Angels in the Snow by Matt de la Pena 3/5 – A penniless young college student spends the holidays housesitting and hungry. A neighbor girl slowly worms her way through his defenses, encouraging him to have a happy holiday despite his circumstances. My heart broke for the young man in this story but don't think it's sad. This story is holiday hope at its finest.
Polaris is Where You'll Find Me by Jenny Han 3/5 – A lovely yet sad story about a human girl raised by Santa and his elves. This was a cute story right up until the end. I can't give it away but I will say that it is not necessarily a SAD ending but maybe just not the magical ending I wanted…
It's A Yuletide Miracle, Charlie Brown by Stephanie Perkins 5/5 – Okay, I had two favorites, and it's no surprise that Stephanie Perkins wrote the other one. This story about an aspiring graphic artist, a boy with a voice and a tree is quintessential Perkins. Full of humor, snark and sweetness.
Your Temporary Santa by David Levithan 4/5 – A boy convinces his Jewish boyfriend to play Santa on Christmas night so that his little sister can believe for at least one more year. You all know how much I love David Levithan. So I'm just going to say this…DAVID LEVITHAN!
Krumpuslauf by Holly Black 2/5 – Holly Black puts her own spin on the Krampus myth. I really like Holly Black but it always takes a little while to immerse myself in her writing style. I think this short story just wasn't for me. But if you are a Holly Black fan and/or you enjoy a dark spin to your Christmas cheer, you are definitely going to enjoy this one.
What the Hell Have you Done, Sophie Roth by Gayle Forman 4/5 – A New York girl struggles to fit into her small-town Midwest college. As always, Gayle Forman delivers a thoughtful contemporary romance with a holiday spin.
Beer Buckets and Baby Jesus by Myra McEntire 3/5 – A prankster is given a second chance after accidentally burning down the church barn used for the annual Christmas pageant. This was a cute story and definitely forced me to move Myra McEntire's stories up on the TBR pile.
Welcome to Christmas, CA by Kiersten White 4/5 – This was an excellent contemporary romance with just a hint of magic. And how can there NOT be magic in a town called CHRISTMAS?
Star of Bethlehem by Ally Carter 4/5 – Shel has been pushing me to read Ally Carter and I can't blame her. This story about a girl grabbing an opportunity to be normal for the holidays was full of all those warm fuzzies that Hallmark throws our way every holiday season. Come to think of it, this (along with a number of others in this compilation) would make a great movie…
The Girl Who Woke the Dreamer by Laini Taylor 4/5 –Fantasy isn't often my thing but this story was absolutely beautiful. I now understand why there is so much love for Laini Taylor's Daughter of Smoke and Bone series. She is certainly an artistic story teller.
Nat