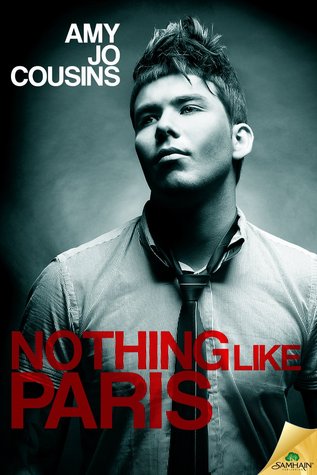 * * * *
Humble pie wasn't supposed to taste this sweet.
Jack Tarkington's life is in the toilet. He was supposed to be spending his junior year studying someplace cool like Paris or Rome. Instead, after taking out his anger on the campus "golden boy", whose dad ripped off his parents, Jack is facing possible expulsion.
Sure, it's all his own fault, but coming back to the small Iowa town he thought he'd escaped, after crowing about his admission to a prestigious school, has been a humbling experience.
When he runs into Miguel, Jack braces for backlash over the way he lorded it over his old friend and flame. Instead, Miguel offers him friendship—and a job at his growing farm-to-table store and café.
Against the odds, both guys bond over broken dreams and find common ground in music. But when Jack's college gives him a second chance, he's torn between achieving a dream that will take him far from home, and a love that strikes a chord he'll never find anywhere else.
Warning: This book contains a humbled guy who's on the brink of losing it all, a determined entrepreneur who seems to have it all together, apologies issued through banjo-picking duets, and two lovers who can play each other's bodies like virtuosos.
If you have read Off Campus, the first in the Bend or Break series, you are familiar with Jack Tarkington. He's the bully that made it his mission in life to make Tom and Reese's life a living hell. I love Tom and Reese so I was happy to see Jack disappear towards the end of the first book. But when I saw that book two was about Jack, I was intrigued. Because, as I've mentioned many times before, I love when an author takes the hero or heroine I hate and turns them into someone I love. Take Me On by Katie McGarry being my favorite example.
Jack Tarkington has a huge chip on his shoulder. A natural self-preservation technique he has perfected through the years. Add that chip with a tendency to mouth off and cause trouble and you have a recipe for disaster. His anger over the loss of his father's investments and savings (and in turn the possible loss of his enrollment at Carlisle) leads him down a path that may very well get him expelled. After being caught making Tom Worthington's life a living hell, he is sent home for the rest of the semester until the Dean makes a decision on his acceptance the following school year.
So Jack heads back to the small Iowa town he grew up in. The town he couldn't wait to leave and never wanted to see again. The town that contains not only his highly dysfunctional family but also the best friend and lover he left behind because he had to escape.
Miguel never thought he'd see Jack again. And he probably would have been just fine if that had been the case. Needless to say, when Jack shows up at his farm-to-table café he is more than a little surprised. He should just turn him away. But Miguel is a nice guy and no matter how angry he might still be at how Jack left him he won't leave him out in the cold. He can at least give him a cup of coffee. In a to-go cup. Because he sure as hell can't trust Jack to stick around to use anything more permanent.
But Jack is here to stay. At least for the short term. And he needs a lot of things. A way to avoid the constant reminder of his mother's alcoholism, a job because he's broke, and a friend because he's never really had one since he left Iowa. Much to Miguel's surprise, he's willing to provide all three of those things. He'll just have to protect his heart and keep their relationship strictly in the friend-zone. But as they spend more and more time together the invisible thing that drew them together in the first place becomes harder and harder to resist.
Miguel is a steady forever guy. He very obviously stays in Iowa, not because he doesn't want to go away to school, but because he wants to be close to his family who he believes needs him more than he needs to pursue his own dreams. And he makes the absolute best of it. He's happy with his accomplishments and his success and doesn't feel the pull of wanting more. Which makes starting a relationship with Jack all the more difficult. Because Miguel knows that Jack won't stay and Miguel has no intentions of following him. I really loved Miguel as a character. No surprise there since I love those forever boys. I found his ability to protect himself endearing but I also found that ability being worn away over time to be believable as well.
Jack's trip back home is life changing in so many ways. He's finally forced to address the things he ran away from. His relationship with Miguel is the obvious one. But he is also forced to accept the fact that his mother is an alcoholic and even though he can't make her get help he can certainly get help for himself. With an unsure future at Carlisle, Jack finds a community of support in the one place he never thought he'd find it. The small town that never offered him much before he left. Between Miguel and the opportunities he provides Jack, Miguel's family, the high school kids who look up to him when he volunteers to be their advocate and his old high school counselor, Jack just might have a safe fall back plan if he can't go back to school out east. But if the Dean shows some mercy and allows him to attend school in the fall? Jack will have to decide if he can leave everything he just found behind. And if he does choose to leave it behind, can he convince Miguel to go with him.
As I mentioned in my review of Off Campus, Amy Jo Cousins writes amazingly realistic characters. Jack isn't always likable. Especially considering his history from book 1. But the humbling things he experiences coming home helps wear away at that chip on his shoulder so much that you just want to hug him and tell him he's going to be okay and that he can make it through.
This is another great m/m new adult title and as you can probably guess, I can't recommend this series enough.
Nat