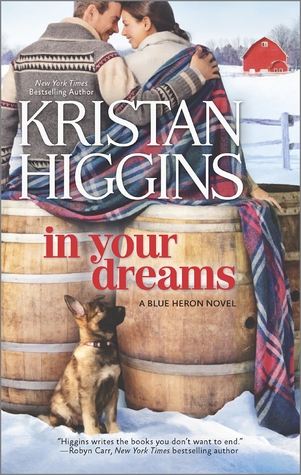 * * * * 1/2
Emmaline Neal needs a date. Just a date—someone to help her get through her ex-fiancé's wedding without losing her mind. But pickings are slim in Manningsport, New York, population 715. In fact, there's really only one option: local heartthrob Jack Holland. Everyone loves Jack, and he won't get the wrong idea…. After all, Jack Holland would never actually be interested in a woman like Em. Especially not with his beautiful ex-wife creeping around, angling to reunite ever since he rescued a group of teens and became a local hero.
But when the wedding festivities take an unexpectedly passionate turn, Em figures it was just one crazy night. Jack is too gorgeous, too popular, to ever end up with her. So why is she the one he can talk to about his deep, dark feelings? If Em is going to get her dream man, she'll have to start by believing in him…
Warning!!!
If you don't want to hear gushing over one of the best romances of the year you should probably not read on….
There are few heroines as awesome as Emmeline Neal. Seriously. I'm still trying to figure out how we can invite a fictional character to Shel's BFF island. It's totally possible that Shel and Bel would replace me with Emmaline but I wouldn't even be mad. She is that cool. She carries a gun and a stun gun. She is proving to be an amazing cop and negotiator. She has the cutest puppy in all the land. She loves her sister. She even loves and puts up with her insanely annoying parents. She is confident in herself as a person. She can dish it with the best of them. Yep, Emmaline Neal is perfection. I fully admit to falling in love with her just as much as I fell in love with Jack.
Jack. Jack Holland. Winemaker and local hero. My favorite kind of guy. The nice guy. The honest guy. The guy so genuine and humorous that everyone loves him. In other words, a forever boy. But I never thought I would ever say this about a forever boy…Jack is TOO nice. It might be his biggest flaw. The one flaw that might just cost him the chance of an amazing relationship with Emmeline Neal.
Put these two together and you have a highly likeable and entertaining couple. But they aren't without their problems. Although he won't admit it, Jack is suffering from PTSD after rescuing a car full of kids from a freezing lake. He's just going through the motions while battling flashbacks and panic attacks. And if that isn't stressful enough, his crazy ex-wife is in town angling for reconciliation. And Emmaline? Well she is trying to come to terms with the fact that the ex that she was with for over 15 years is truly moving on and she hasn't moved on at all. But her ex can't know that. Which is why Emmaline gladly (or grudgingly) takes the very sexy and nice Jack Holland with her to the wedding. Can't have anyone thinking she's still hurt and pining after being tossed aside for that evil personal trainer.
Jack is more than happy to go away with Emmaline for the weekend. He's been the "fake" date before and doesn't mind the job. And the idea of getting away from his ex-wife sounds fabulous. Add in the fact that the wedding is in California and Win/Win! Jack and Emmaline might know each other but they aren't friends so their growing friendship over the weekend is a lovely surprise to both of them. But the thing neither of them planned was to add sex into the equation. Add that awkwardness to their crazy lives back home and both are at a loss. Fortunately they have a whole nosy town that is more than happy to help them figure it out.
I have to say that the minor characters provided just as much entertainment as Jack and Emmaline. There are Jack's three wildly inappropriate sisters (there really should be a series of short stories about Pru's post-menopausal sex life) who are nosy and hilarious. And thank goodness for them and the rest of Jack's family. Someone had to knock some sense into that guy at a few points in this book. Police Chief Levi (Jack's brother in law and Emmaline's boss), who isn't fooled at all by Jack's silence on the PTSD and who also puts up with Emmaline's wonderfully snarky conversations. There are also the members of the Bitter Betrayed Book Club that not only provide Emmaline with friendship but also set her up for one of the most embarrassing moments in wedding party history. Ok, maybe I didn't love every character. I certainly didn't love Jack's ex-wife. That girl was bat shit crazy. But the rest of the people in Manningsport are amazing. Even if they are all up in everyone else's business.
The only complaint I had with this book is that I felt the resolution of Jack's feelings and his subsequent actions were a bit rushed. Granted this book is already 480 pages so maybe it needed to end soon. I just felt I wanted to know a little bit more what Jack was thinking at the end. That being said, this is still one of the best romances I read this year. Anything that makes me laugh out loud, pour multiple glasses of wine and crave Skittles is a winner in my book.