Waiting on Wednesday is a weekly meme, hosted by Jill at
Breaking the Spine
, that highlights future releases that we are excitedly anticipating.
Title: Starstruck
Author: L.A. Witt
Publication Date: November 3, 2014
Publisher: Riptide Publishing
Hollywood is full of dirty secrets, but Carter refuses to be Levi's.
Retired action star Levi Pritchard has made a quiet life for himself in the sleepy logging town of Bluewater Bay, Washington. But then Hollywood comes to film the wildly popular television series Wolf's Landing, and Bluewater Bay isn't so sleepy anymore. His retirement doesn't stick, either, because he's offered a part on the show—exactly the kind of complex role he'd always wanted, one that would prove him more than a glorified stuntman. The only catch? He has to stay in the closet—no matter how attractive he finds his co-star.
Carter Samuels is the critically-acclaimed male lead on Wolf's Landing. And now, the man who inspired him to take up acting—and made him realize he's gay—is joining the cast, and sparks fly between them instantly. But Carter is out and proud and determined to stay true to himself.
Remaining just friends is the only thing to do, as both the studio and Levi's disapproving, dysfunctional family keep reminding them. Except their friendship deepens by the day, tempting them with what they can't have but both desperately need.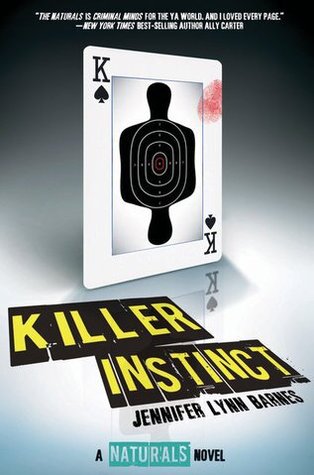 Title: Killer Instinct (The Naturals #2)
Author: Jennifer Lynn Barnes
Publication Date: November 4, 2014
Publisher: Disney-Hyperion
Seventeen-year-old Cassie Hobbes has a gift for profiling people. Her talent has landed her a spot in an elite FBI program for teens with innate crime-solving abilities, and into some harrowing situations. After barely escaping a confrontation with an unbalanced killer obsessed with her mother's murder, Cassie hopes she and the rest of the team can stick to solving cold cases from a distance.
But when victims of a brutal new serial killer start turning up, the Naturals are pulled into an active case that strikes too close to home: the killer is a perfect copycat of Dean's incarcerated father—a man he'd do anything to forget. Forced deeper into a murderer's psyche than ever before, will the Naturals be able to outsmart the enigmatic killer's brutal mind games before this copycat twists them into his web for good?
With her trademark wit, brilliant plotting, and twists that no one will see coming, Jennifer Lynn Barnes will keep readers on the edge of their seats (and looking over their shoulders) as they race through the pages of this thrilling novel