Waiting on Wednesday is a weekly meme, hosted by Jill at
Breaking the Spine
, that highlights future releases that we are excitedly anticipating.
By Tera Lynn Childs
Publication Date: November 4, 2014
When magic sleeps, everything changes.
For as long as she can remember, Winnie Price has visited another world in her dreams, a magical fae realm caught up in a war of intrigue and sorcery. Where nature is all-powerful and a dark prince will do anything to save his dying clan. She thought this realm was pure imagination, until one midsummer's eve when the owl who visits her window once a month transforms into a boy before her eyes. And not just any boy, the dark fae prince.
With his clan on the verge of extinction, Cathair O Cuana knows that his secret feelings for the human girl can never be more than fantasy. Caught between duty and emotion, he knows his responsibility to his people comes first. But when the magic sleeps and she sees his true form, the girl he yearns for finally feels within his reach—just as a traitor in the palace pushes the kingdom to the brink of war. Will disaster drive them apart or pull them together?
In a world where dreams, magic, and war collide, a human girl with a special ability and a fae prince with the weight of a kingdom on his shoulders must risk everything for a chance at happily ever after.
When Magic Sleeps
is the first novella in the Darkly Fae fantasy series.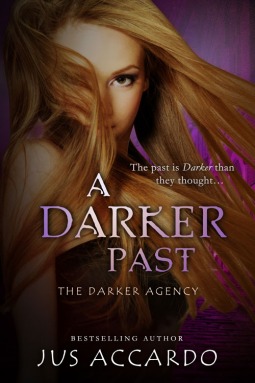 By Jus Accardo
Publication Date: November 11, 2014
The past is Darker than they thought...
Between helping her mother with the Darker Agency and laying the smack down on monster baddies, Jessie Darker puts the "normal" in paranormal. But lately, things have gotten a little crazy...even for a smart-assed half-demon teenage girl.
For starters, Jessie's been contracted into fifty-five years of annoying servitude. To a demon. Then there's Lukas Scott, her sexy new boyfriend. Once the former incarnation of Wrath, he's been going through some...uh, changes. Like residual anger. And trading chaste hangouts for lusty make-out sessions.
But it's when Lukas and Jessie accidentally release a Very Nasty Demon that things get really bad, setting into motion a chain of death and mayhem that threatens both Earth and the Shadow Realm. Jessie has exactly four days to fix it...before all of Hell breaks loose.