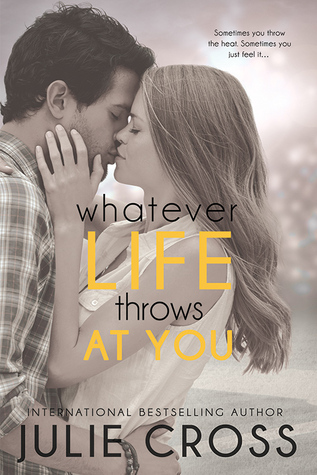 * * * *
Life loves a good curveball…
Seventeen-year-old Annie Lucas's life is completely upended the moment her dad returns to the major leagues as the new pitching coach for the Kansas City Royals. Now she's living in Missouri
(too cold)
, attending an all-girls school
(no boys)
, and navigating the strange world of professional sports. But Annie has dreams of her own—most of which involve placing first at every track meet…and one starring the Royals' super-hot rookie pitcher.
But nineteen-year-old Jason Brody is completely, utterly, and totally off-limits. Besides, her dad would kill them both several times over. Not to mention Brody has something of a past, and his fan club is filled with C-cupped models, not smart-mouthed high school "brats" who can run the pants off every player on the team. Annie has enough on her plate without taking their friendship to the next level. The
last
thing she should be doing is falling in love.
But baseball isn't just a game. It's life. And sometimes, it can break your heart…
When Jim Lucas is offered a job as a pitching coach for the Kansas City Royals, his daughter, Annie, makes him take it. Annie realizes that this is not only an amazing job opportunity for her former MLB pitcher dad but she also thinks it might be the perfect way to avoid her wandering mother who only shows up time to time to wreak havoc on the Lucas household. But although there are amazing perks to moving to Kansas City (a new house, an amazing school with the best track team in the state, a caretaker for Grams) there are also some obstacles. There's the fact that the team owner is not amused with the team manager's decision to hire Jim Lucas. His job is tenuous at best. The other obstacle? Jason Brody. He's super hot. He's not much older than her. And he's completely off limits.
The ball club is buzzing with rumors about rookie pitcher, Jason Brody. He's a drop out. He's an ex-con. He killed a man. Just kidding. Not that last one. Fortunately, Brody is smart and he keeps his mouth shut as his teammates talk shit about what he may or may not have done in his past. The only rumor he's willing to confirm or deny is the fact that he's an amazing pitcher. He might be young and new but Jason Brody is determined to show the world that he and his new coach, Jim Lucas, are indispensable.
Julie Cross does an amazing job of treading that sometimes fine line between Young Adult and New Adult. Since Brody and Jim are constantly working together, it's no surprise that Annie and Brody become friends. Annie is a seventeen year old high school junior. In a different world, the 1 ½ year age difference between her and Brody would seem rather inconsequential. But considering he's a rising MLB star that is constantly in the limelight and she is just a regular kid that still has a year and a half before heading to college, the gap between their ages and their current positions in life seem insurmountable. Annie feels like a kid next to Brody and the life he is leading. Brody definitely doesn't see Annie as a kid, but a relationship between them would cause all sorts of issues. With Jim Lucas. With the team owner. With the media. Together, Brody and Annie need to figure out if the relationship they both want so much is possible and if the risks are worth it.
I have a confession. I've been unfaithful to the American League. I'm a White Sox fan. So you would think I'd be cheering on the Kansas City Royals during this year's World Series. But no, I'm a fickle baseball fan. I have so much shame (not really) in admitting that I think Buster Posey (San Francisco Giants catcher) is cuter than fluffy puppies, prickly hedgehogs and smiling turtles. And I pretty much would do anything to again see that cuteness rushing the pitcher mound after winning the Series. And by "anything", I mean cheering on the Giants.
But today? After reading Whatever Life Throws at You? As I simultaneously write this review
and watch
the second game of the Giants/Royals series? Today I'm feeling a little guilty. You see, I'm also a little in love with Jason Brody. And although he might be a fictional character, I can't help but imagine him up there on that pitcher's mound when the Giants are up to bat. And if a book can make me consider switching baseball loyalties to support its main characters, then that's a good book indeed.
If you love romance and baseball do yourself a favor and buy yourself a copy of Whatever Life Throws at You by Julie Cross. You won't be disappointed.